Band releases second album 30 years after their first
May 5, 2021
On Feb. 21, Slammin' Gladys released their second album titled, Two. The band was originally created in
the late 80s and reunited to create their most recent project. Slammin' Gladys consists of four members:
Dave Brooks, J.J Ferris, Steven DeBoard, and Al Collins. They chose to pair with Jib Machine Records to
release their sophomore album nearly three decades after their first.
The Register was able to have an interview with the lead guitarist, J.J Ferris from Slammin' Gladys. The
new album was inspiring for the band, but he also spoke about their past.
"I remember I was in another band while Slammin' Gladys was getting together, and I'll never forget
Dave said to me, 'Hey, you can stay in that guy's band and play his songs, or you can join our band and
play your songs.' And that made sense to me and I was in."
The band released a self-titled album that encapsulated their mix of sounds and inspiration. However,
they split shortly after to work on other projects.
"The whole band remained friends over the hiatus between the first and second albums. Whenever I
would visit my family in Ohio, I'd get together with Dave and Al and just jam or get food or just do
something. We always just remained friends. And Dave had an idea about two and a half years ago to do
a couple new songs," Ferris said.
He went on to describe how to band decided to get back and create a new album. Two is both different
and similar to their initial release. Ferris said that they took a lot of inspiration from themselves in order
to keep the same sound they once had and did not have many other inspirations. Slammin' Gladys
focused on the bluesy and funky style for their newest album.
Ferris states, "It was a passion project for me. You know I was involved with production and mixing and
mastering. I was very close to it. For me, I wanted to, all these years later, remember how I met Dave
and how all of this started. Sitting down and writing those songs, especially Durango, really just made
me connect with Two."
This album is very much an amalgamation of various genres and sounds. There are rock and funk
elements while keeping to bluesy and cool. Ferris expressed that he loves the songs "Poison Arrow" and
"Durango" the most off of Two, but to him, the whole album is something he is very proud of.
Slammin' Gladys has been busy since the release of their album. They've been making music videos and
promoting the new record. In the current state of concerts and live performances, the music industry
has been an interesting time for artists. No matter, Ferris and the band have been making the best out
of their situation.
"We have a couple things set up. We're talking about going back. There are a couple of spaces where
they do live broadcasts on either the internet or social media. We've also had offers from some people
in the Midwest to do shows, so we're just starting to get an idea about this stuff. We're hoping to start
getting back into it in the fall, and then happily playing shows in winter of 2022," said Ferris.
Though Slammin Gladys had not released a record in thirty years, their ability to come together for their
newest project was inspiring. J.J Ferris was insightful about the band and their work, and Two was not a
disappointment. By blending genres, the band was able to create their modern album.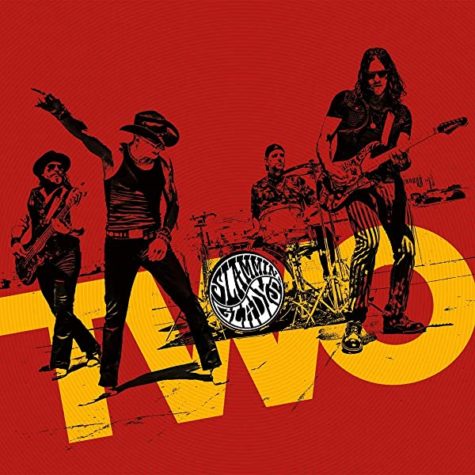 "For those who aren't familiar with us, just give it a listen," Ferris says. "Not every song sounds the same—and that might get us in trouble sometimes—but that's our sound and that's what we do."