Monster Energy drinks ranked
The hard work that occupies our everyday lives requires a lot of energy. With this amount of work, combined with other inconveniences, we rarely have time to nourish our bodies with enough sleep to proficiently accomplish these endeavors. 
The solution to this problem? Caffeine! 
Many people utilize energy drinks with high amounts of caffeine for a quick solution to their exhaustion. Monster Energy is an energy drink that was released in 2002, and the drinks range from around 150mg to 300mg of caffeine. As of March 2021, the "Zero Ultra" line of Monster Energy contains 11 different flavors. I was able to find ten of the flavors and will rank them, from one to ten, with the goal to find the best Monster Energy Zero Ultra flavor. 
#10. Ultra Blue 
Ultra Blue is at the bottom of the list because of its lack of distinctive characteristics. In fact, Ultra Blue is just a replica of the flavor "Ultra Zero," with the addition of a slight berry flavor. This slight difference is barely noticeable, so I just think this flavor is unnecessary.   
#9. Ultra Sunrise 
Ultra Sunrise lacks dimension; it is purely an extremely sweet orange flavor. It is almost identical to classic orange soda, which isn't necessarily a bad thing. So, if you're looking for a basic orange soda with an extra kick of caffeine, then this flavor is for you.  
#8. Ultra Watermelon 
Ultra Watermelon is another pretty basic flavor. It is basically carbonated watermelon juice. It's not bad, just a little boring. The name "Ultra Watermelon" is also one of the least creative names out of all the flavors. The best part about this flavor is the fact that it was released in October, despite it being summer themed, and I find that funny. 
#7. Ultra Fiesta 
Ultra Fiesta is very similar to the flavor "Mango Loco." Both are simple mango flavors except this version is sugar-free. This again is a one-dimensional flavor, but since I personally prefer mango over watermelon, Ultra Fiesta is in seventh place. 
#6. Zero Ultra 
The mysterious flavor of this classic is unique and enjoyable. It was the first Zero Ultra Monster to be released, and its fruity, sugary taste is nothing like any other Monster Zero Ultra flavor. 
#5. Ultra Gold 
Ultra Gold is the newest addition to the Zero Ultra series. It has a pineapple flavor, and because I think pineapple is slightly more unique than the other fruit flavors, it's higher on the list. 
#4. Ultra Rosa 
Grapefruit isn't a common flavor, but Ultra Rosa pulls it off greatly. Its sweetness and extremely cute design on the can make this one of my favorites. 
#3. Ultra Paradise 
Ultra Paradise is a blend of refreshing tropical flavors, and used to be my favorite flavor before I had tried them all. I think the blend of kiwi, lime, and cucumber gives this flavor a uniqueness that I haven't tasted in any other drink. 
#2. Ultra Red 
Ultra Red has been extremely hard to find in stores for me. This is frustrating since this is one of my favorite flavors. It has a perfect sweet mixed berry taste which creates a satisfying and balanced flavor profile.  
#1. Ultra Violet 
Ultra Violet is described as "pixie dust" according to the side of the can, and I think that's very cute and accurate. It's a confusing taste at first. With the can being purple, you expect grape, which is there, but alongside the grape flavor are other citrus-y elements. The grape flavor of Ultra Violet isn't medicine-like and overpowering like other grape flavored things, instead it's subtle and enjoyable. 
About the Writer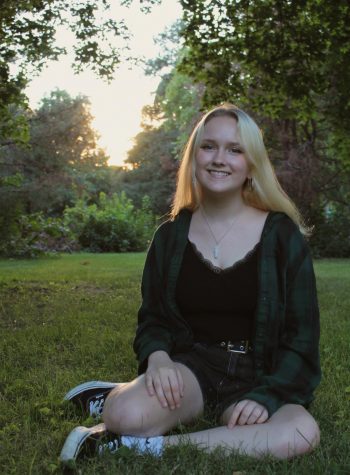 Lily Labs, Staff Writer
Hello! My name is Lily, and I'm a sophomore who is pretty new to newspaper. I enjoy drawing in my free time, collecting cool CDs and reading ghost stories....