Food hall shows diversity amongst vendors
Some of the vendors are familiar favorites while others are new to Omaha. I've only dined a few times at the inner rail, this time I wanted to try new vendors that offer drinks, food, and dessert, and decide which restaurants pass the test.
May 24, 2021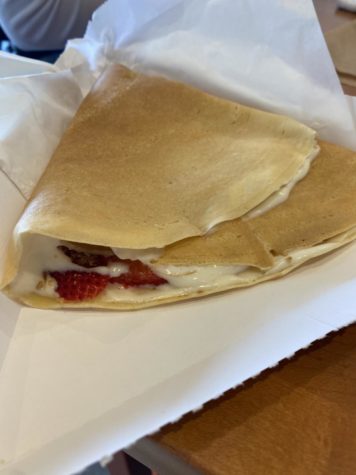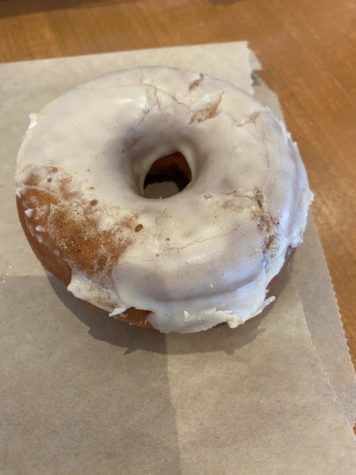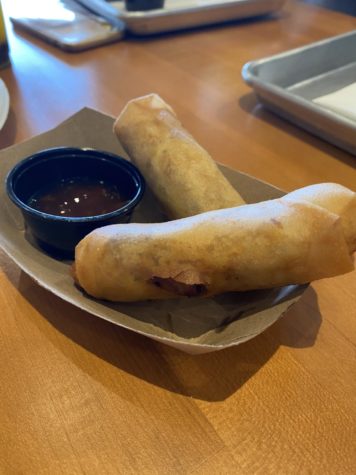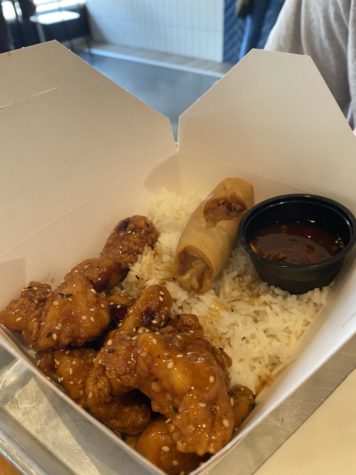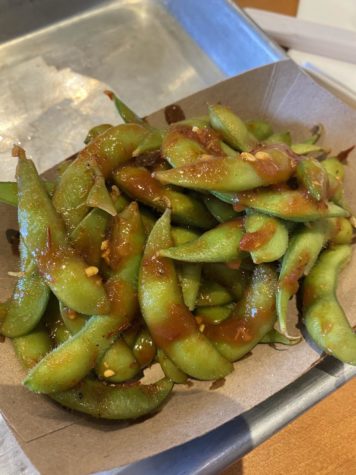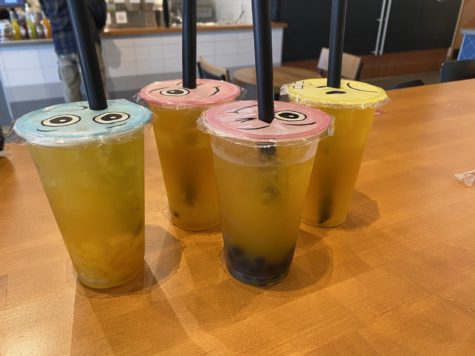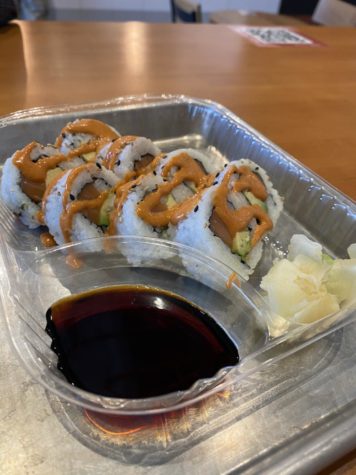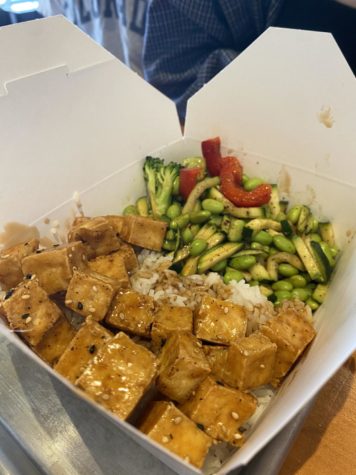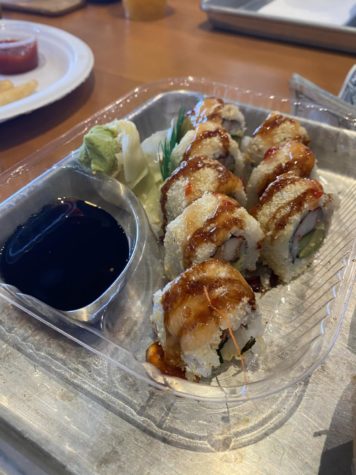 The Inner Rail food hall has been open since 2019 and has gained popularity ever since. The food hall includes nine vendors each with a different style of cuisine, with a bar as the focal point. Some of the vendors are familiar favorites while others are new to Omaha. I've only dined a few times at the inner rail, this time I wanted to try new vendors that offer drinks, food, and dessert, and decide which restaurants pass the test.
For drinks I decided to try Rougamo and Boba, a new vendor recently opened in the Inner Rail. The menu has a wide variety of flavors to choose from alone with other dishes like soup, salad, noodles, and rougamo. The prices are high for drinks ranging from $5 – $8. Customers also have to pay for boba separately. The food could range from $5 – $16 depending on what you get.
The first drink I purchased what's the passion fruit tea with lychee jelly. If you love sweet drinks, you'll really enjoy this. I couldn't even finish it, I wish I would have ordered water. There was nothing special about it and I was overall disappointed.
The next drink I ordered was a pineapple green tea with mango jelly. This drink had a weird aftertaste and the texture of the boba was not enjoyable. This drink was also sweet as well and I didn't finish it.
My last drink I tried were the mango green tea. If you decide to get tea from here, I would definitely recommend getting it without the boba. It was less sweet and the flavor was really good. It was my favorite drink I ordered.
Overall, I would not get tea from Rougamo and boba again. Considering the high prices, with mediocre drinks it would be better to get drinks from another vendor that are cheaper. I love boba, and had high expectations for this shop but was extremely disappointed with my experience.
For food I decided to get Nori. They have plenty of options to choose from such as sushi rolls, rice bowls, some entrée options, salad, and appetizers. Nori is pretty affordable and the prices overall can range from $3.00 – $13.99.
I ordered the spicy edamame as an appetizer and was extremely surprised. I love edamame, but was skeptical how well the spice would go well with it, but the flavor was perfect level of spice. I would definitely order this again.
Another appetizer I ordered was the egg rolls. I love egg rolls but was disappointed after trying Nori's. The outside was super crispy but the inside however was disappointing. The only flavor came from the sauce and I couldn't finish one.
My first sushi roll I tried was the summer roll. It was terrible, and had no flavor. It fell apart while eating and already came that way to the table. The sauce that came with it was not flavorful either. It was more of a spring roll, and I would not get it again.
I next ordered the Crunchy Tokyo roll which has crab, cucumber, avocado, crispy panko and sweet chili sauce. This was one of my favorite things I ordered and I would for sure order it again. It was full of flavor, and the panko on the outside gave it a really good mixture of textures. The sauce that came with this sushi perfectly complimented the existing flavors.
My last roll I ordered was a salmon avocado roll. This roll also had a lot of flavor with some spice. It had fresh salmon which was perfect with the refreshing avocado, and aired with a spicy mayo. This roll was delicious and another one of my favorites of the day.
I wanted to further explore the variety of Noris menu, so I ordered the Orange Chicken entrée. It was plain and dint really have any flavor. It's not like it was bad, there was just nothing special about it. The chicken was crispy, but lacked flavor, and the egg roll that came with it was terrible.
The last thing I ordered from tofu teriyaki bowl. I've never had tofu, but wanted to try a vegan option off of the menu. I was pleasantly surprised. The tofu was seasoned extremely well and was super crispy. To compliment this there were large portions of steamed bell peppers, zucchini, broccoli and rice. I would get this dish again, it was my favorite non sushi item I ordered from Nori.
The workers were extremely friendly, and for the amount of food I ordered I didn't wait long at all. Although some items off the menu were bad, the rest I tried were delicious. If you're wanting to eat something lighter, I would recommend going here for their sushi rolls and other delicious sides. Nori gets the stamp of approval and has moved up in my rankings of the Inner Rail.
For dessert I tried both Culprit Café and Sofra Creperie.
From Culprit Cade I ordered two doughnuts. They were extremely affordable and I only payed around $4 for them.
The first doughnut I ordered was a cinnamon sugar. This is a classic go to. Definitely a safe move, but it doesn't disappoint. I also ordered a raise doughnut with hazelnut icing. This one was my favorite by far. The hazelnut icing was delicious and complimented the doughnut well.
At Sofra, I ordered their strawberry cheesecake crepe. I've never had a crepe before and this one didn't disappoint. The strawberries inside were super refreshing. The cheesecake filling and graham crackers complimented the strawberries perfectly. It wasn't too sweet and I would get it again.
Both Sofra and Culprit had other food items on their menu and were both pretty affordable. I was impressed with both of these vendors and would recommend trying them both.
The Inner Rail has a diverse variety of vendors and I will be coming back to try the many other options they offer. It's the perfect place to meet friends and enjoy delicious food.