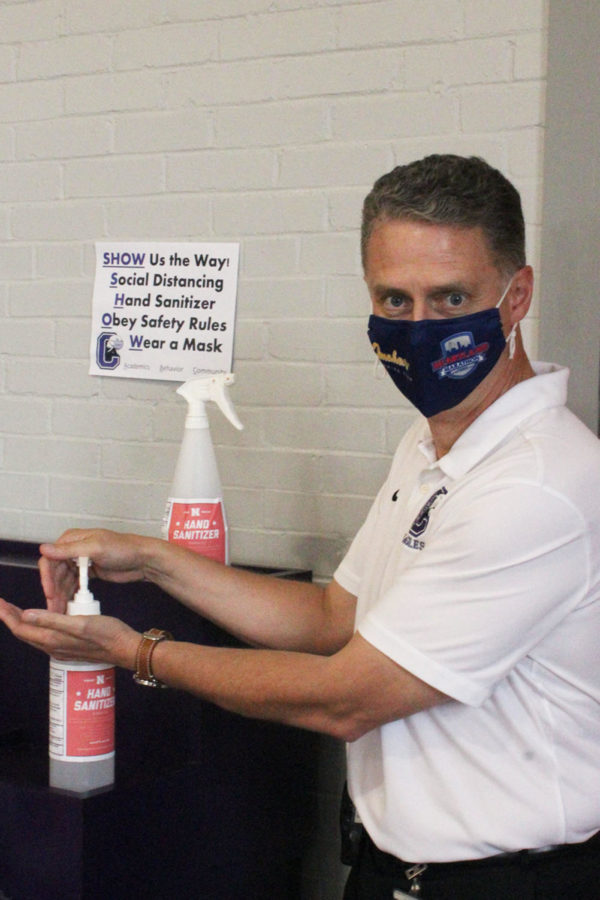 Bennett leaving Central, moving to Minnesota
May 25, 2021
As of this year, the principal has announced he will no longer be principal next year. He and his family will be moving to Minnesota.
Bennett has had opportunities during his time at Central to pursue other job positions elsewhere, but he always made the decision to stay. "I've always liked to be here."
He likes that the school brings in students from all over the city. Learning about them and from them is something he's always cherished.
But this time is different, because his family's interest is at the heart if the issue. "I made the decision [to leave] probably about a couple months ago. My wife is an attorney in Omaha, and she has an opportunity to join the Minneapolis office of her law firm. When this opportunity came for her, it was at a time when my youngest daughter was graduating from high school," he said.
"I had an opportunity to spend some more time with her and to support my wife, and to move to a community where we were planning to retire anyway. It just happened a couple years earlier than I thought, but the time was right. Too many of the [factors] pointing us that way were present. For me it was really about family."
Principal Dr. Edward Bennett has been involved in teaching for several years. He started as a teacher in Bennett, Iowa in a K-12 school house as English teacher. Then he transitioned to Northwest High School as an English teacher and later Bryan High School as a specialist.
Bennett went on to work at TAC for two years in charge of curriculum and instruction. Afterwards he worked at Buffet as an assistant principal. Then came his position as an assistant principal at Central for five years. He went back to Buffet for two years as principal, and ended up where he is now. He has been principal at Central for eight years.
Bennett has spent the majority of his career at Central, and that is no coincidence. Central has a legacy and history, which Bennett has always loved and admired.
"You look at the history of Central and the history of Omaha, and they're really intertwined. The lights are a little bit brighter here, the stakes are a little bit higher here, the pressure is a little bit more here, the expectations are higher here, and I've always kind of liked that. I like the challenge of it."
Despite the great opportunity for his family, leaving is still bittersweet. Bennett hates to leave the school he loves so much, and the community he's been a part of. There is so much he has accomplished that he'll leave behind.
He's proud of the new addition, ACT scores continuing to go up and the ACT score gap closing between students of color and white students.
Bennett has loved watching students chase after what they're passionate about. He liked advising teachers while they figure out teaching, especially learning to navigate Central, and watch them grow and figure it out. He liked being able to hire talented teachers, and being able to pick them in confidence, knowing that he would trust them to teach his own child.
His favorite aspects of the school stem from student passion. "I'd never worked at a school that was good at sports. I enjoyed basking in the success.  I got to ride along on the coattails of the kids who were great and the coaches that were really good. I've gone to the Road Show, over the years that's been really fun."
The school and what it represents to Omaha and its families is deeply impactful on him. "This year we had 1,000 incoming ninth graders who Central is their first choice, and we can only take about 650. I'm proud that we were the place where most kids want to go. Because it wouldn't necessarily have to be that way," he said. "But word gets out that teachers are nice, that you have the chance to do a lot of different things. You can be in music, you can be in sports, you can be in a lot of different activities, and that they'll do almost anything to get in. And it's nice to know that I had a little part of that."
His advice to his successor is patience. "Central has been here a long time, people have done it. You don't have to come in and set the world on fire and change everything just because it doesn't make sense to you right away."
"The first year you're here listen and learn and trust the people that have been here for a long time. Central is a school that is built on many traditions, one of those traditions is they tend to like their principals. They will want you to be successful."
"You don't want to go out and make a bunch of rash changes. We are going to have a year coming off the pandemic when all we're trying to do is get back to normal. And the trick is to figure out what that normal is, what does that look like, why do things work the way they do. Because a lot of it is coincidental, there are reasons why [things happen]."
Bennett's has nothing but gratitude toward his Central family as he departs. "It's been wonderful, thank you for everything. I've always been treated wonderfully, and I appreciate it."