Clairo returns with new, refreshing sound on "Sling"
On July 16, 2021, Claire Cottrill, better known as Clairo, released her second album titled, "Sling". One of the most notable aspects of this record is how different it is from her other music. Although her familiar bedroom pop sound is not completely lost on this album, with traces of it seeping through the more upbeat tracks, "Amoeba" and "Zinnias," "Sling" is a drastic departure from her previous work. Produced by Jack Antonoff, this album surrounds themes like motherhood, mental health, and the artist's more private past. Each song tells a heartfelt story that Clairo has been wanting to tell for a while.
"Sling" was recorded during Fall 2020 at Allaire Studios, which is a homey cabin-style building in the middle of nowhere. It sits in a serene and wooded area of upstate New York and has hosted many talented artists before Clairo, including David Bowie. The atmosphere of Allaire certainly translates into the vintage folk energy of the album. Each track of "Sling" is layered with harmonious vocals and strings, tied together with soft, pattering drums that deepen the album's warm and intimate sound. In a way she never has before, Clairo is embracing a more wild and unrestricted form of experimentation. "Joanie" is a song named after Clairo's main inspiration for the album, her dog, who appears on the album cover. This song, which is fully instrumental, is a showcase of the artist's musical growth. Another song, "Wade" features an interlude of woodwinds that seem to dance over the gentle plucking and strumming of various stringed instruments. The lengths of instrumental exploration Clairo and Antonoff went to for "Sling" is an integral part of the album's being.
To the same extent she has instrumentally, Clairo has lyrically evolved into a true artistic force. In her debut album, "Immunity", her lyrics predominately reflect the moment. She used simple and repeated phrases in her writing, which paired well with the indie pop genre her music fit into at the time. On "Sling" however, Clairo truly opens up to becoming more personal and vivid with her songwriting. Her willingness to be vulnerable is a great benefit to the lyrics of the album. On the solemn track, "Just For Today" Clairo mulls over a low point in her struggle with mental health while on tour. She sings, "as we speak, I'm here to meet devils for tea, peering 'round the corner of my life, I throw my drink into the faces of my demise". Compared to her previous album and EP, the lyrics Clairo has written for "Sling" are significantly heavier. The writing effectively sets the scene for the album, and clearly represents Clairo's growth not only artistically, but personally as well.
Ultimately, Clairo's "Sling" proves itself as a solid body of work. It holds a broad range of sentiment, extending from cold desperation to bright optimism. It redefines the genre of her music with bold instrumental experimentation and production. It is proof of her impressive lyrical evolution. With this album, Clairo has blossomed into a truly well-rounded and sophisticated musician. Anyone who has not yet listened to "Sling" by Clairo should do so.
About the Writer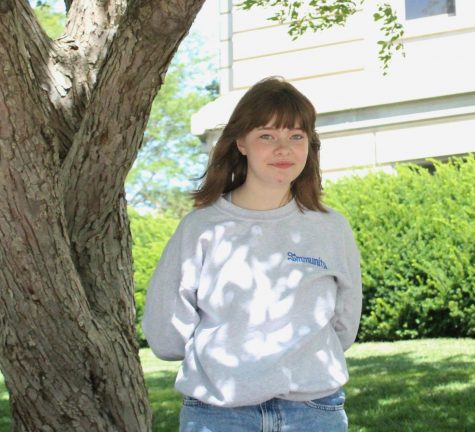 Lea Langner, Staff Writer
Hi! I'm a junior and I love listening to music, journaling, and being a libra. This is my first year on staff and I'm excited to see what it brings!