Harney Street bike lane protects cyclists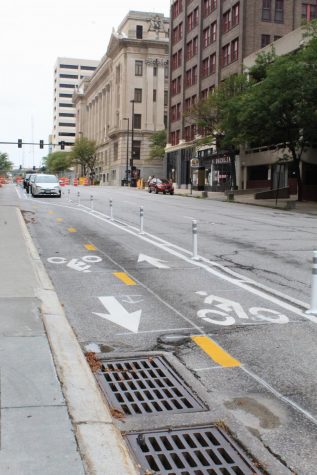 In July, Omaha opened a new protected bike lane on Harney Street. The bike lane protects cyclists on the road and encourages cycling as an alternate form of transportation. 
Senior Elana Elder uses the bike lane regularly. "Having a physical barrier between me and the cars by me is such a relief, because riding on a bike especially on the road is a very vulnerable position," she said. "The protected bike lanes require cars to give bikes their space and just creates a better transportation experience for everyone involved." 
The bike lane runs on Harney from 10th Street to 33rd Street, a distance of about 2 miles. It is separated from the road by concrete barriers and painted boundaries. Bikers appreciate the added protection from cars the bike lane provides them. 
"Riding on roads has meant that I have been honked at and yelled at multiple times because I am not going fast enough to suit the car behind me. […] It just feels safer to bike in a bike lane," Elder says. Over 5 thousand crashes occurred between bikes and motor vehicles from 2000-2019, according to the Nebraska Department of Transportation. 
The bike lane is part of a pilot project that was approved by the Omaha City Council in April 2021. Omaha will collect data on bike lane usage for 14 months before the city considers making it a permanent fixture on Harney Street. 
In August 2021, city councilman Pete Festerson introduced a budget amendment that would allow Capital Improvement Plan funds to be used to maintain the Harney Street bike lane, as well as implement a Bike and Pedestrian Master Plan. Elder testified at the city council budget meeting in support of funding for bike lanes. The amendment was approved by the city council but vetoed by Mayor Jean Stothert. 
Local environmental and transportation activists believe that bike lanes are helpful for reducing carbon emissions, improving traffic safety and encouraging physical activity. Bike lanes also allow people who do not own cars to move around the city safely and efficiently. 
"Bike lanes are so important because they acknowledge the fact that not just cars are using the roads to get around," Elder said. "Creating a system in which only cars are acknowledged is both detrimental to the health of our planet and of its people."