Animal Crossing update to bring much needed traffic to a seemingly dead game
When Animal Crossing New Horizons originally came out in March of 2020, there was a record breaking amount of sales. Since this was the peak time of Covid lockdown, many people clung to the comforting nature of the Animal Crossing franchise. A game where one could escape the chaos of the world by being transported into a small little island world where your only worries are watering your flowers and eventually paying off debt to Tom Nook was really necessary for people at the time. But, with Animal Crossing's laidback style of gameplay, eventually many people got burnt out of the game and abandoned their islands. Now, with the new 2.0 update of the game as well as the new DLC (downloadable content) coming on Nov. 5th, a large number of fans who previously played the game but put it down due to boredom are expected to pick it back up to try out the new features that the game has to offer. 
The new free update includes features like farming, Brewster's Café, new items, new travel opportunities and more.  
Brewster's Café will be a new feature of the game that many people have played the Animal Crossing franchise in the past have missed from the old games. The addition of Brewster's Café in this update adds a coffee shop to the museum. The existence of this coffee shop will bring all sorts of new interactions with other Island residents as well as certain interactions with Amiibo characters.  
Another new addition to the game is farming. In the Animal Crossing New Horizons direct video (where they shared many details of the update) we see a whole new farming aspect put into the game. Crops like tomatoes, potatoes, wheat, carrots and more will be seen in the game. With these new crops also comes a whole new theme of cooking in the game. This will entice many people to pick up the game again since it adds a whole new goal to be achieved in the game. 
Another important addition is the new travel opportunities in the game. People that are often seen occasionally visiting the island will finally have a place to all gather and stay for whenever you need them. While it does take some work and bells (the in game currency) to get all of those characters to stay on that island, in the end it creates shopping in game much easier and more efficient.  
The new free update will bring countless new opportunities into the game for people to enjoy but it wont be the only change coming to Animal Crossing New Horizons. The new paid DLC called Happy Home paradise will also bring many hours of fun to those who enjoy the design aspects of Animal Crossing.  
Happy Home Paradise will give players the opportunity to design their island resident's their very own dream vacation homes. As you continue to design more houses, more opportunities to design the vacation homes as well as the Island resident's actual homes will emerge. This DLC will also bring countless hours of gameplay to those who have found no real motivation in the actual game. It brings a whole new purpose to the game rather than running around for hours on your overgrown island wondering what you are  going to do next. 
The much needed update as well as the DLC will hopefully bring many improvements to the game. Ever since its release in March of 2020, Animal Crossing New Horizons has not seen any big updates up until now. After watching the direct that Nintendo had put out, it is clear that they have really considered the feelings of those who have played the game and they have taken our suggestions and put them all into this new update.  
About the Contributor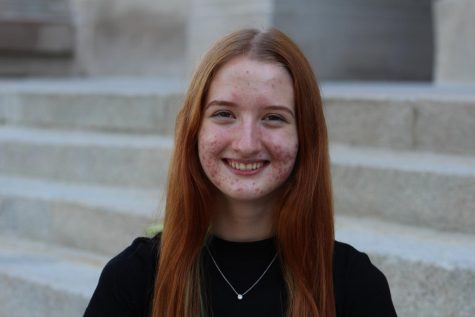 Ella Novak, Staff Writer
Hi! I'm a junior and this is my second year on staff! Outside of writing I like to play instruments, drink coffee, knit sweaters and play video games.