Up and coming musician, Sierra Ferrell, brings new life to americana music
December 12, 2021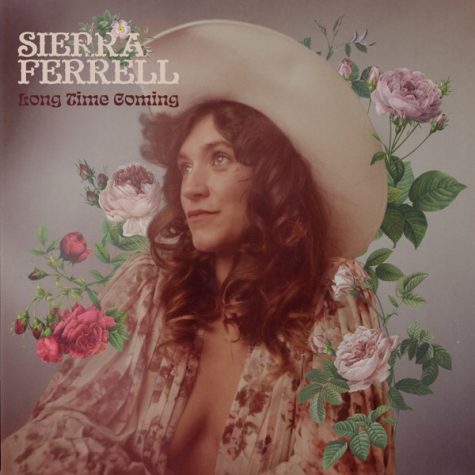 Sierra Ferrell is a singer-songwriter who produces a variety of genres of music. A majority of her music career has been spent publicly playing on the streets and in boxcars of trains. But, in 2021 Ferrell has released her first full album 'Long Time Coming' which is a combination of americano, blue grass and multiple other genres. While a lot of them may differ in genres they still blend incredibly well together because of Ferrel's incredible voice.  
Upbeat songs like The Sea, Far away across the sea and Why'd Ya Do It are songs that are able to capture the attention of listeners. Instruments like guitar, mandolin and violin all bring so much depth and complexity to the music that you discover more and more of every time you listen to the album. As some one who typically doesn't listen to more bluegrassy music, Ferrell's songs have inspired me to branch out to other genres of music that I wouldn't have explored before. She brings a great deal of youth to country styles of music without completely switching it to pop.  
My favorite songs on her album are The sea, Jeremiah and Why'd Ya do It. While all of the songs on the album have excellent instrumentation and lyricism, I've found that these ones in particular really strike my heart and bring me a lot of joy.  
The Sea: 
Ferrel's song 'The sea' is the first song of the album and ties in a slight style of a sea shanty. The song starts with ghost-like vocals from Ferrell. The vocals start the song off on an eerie foot which gets carried through with the use of the distorted guitar as well as violin solos placed through the song. The eeriness is also tied into the song with her lyrics. The lyrics while seemingly talking about how the sea is a "salty magical place" suddenly switches to "if you find yourself goin' under you'll remember the taste." The combination of eerie musical style along side the lyrics creates a very interesting plot to the song and is a great start to the album.  
Jeremiah:  
'Jeremiah' is a song about a man named Jerimiah who continuously cheated on his wife referred to as "sweet sue" in the song. My favorite part of this song is the lyricism from Ferrell. The song is a sort of message to Jeremiah from Ferrell because of her use of 'you' to warn Jeremiah of how he is not being a good husband. My favorite lyric in the song by far is "But she'll make sure to keep all the dust away from you. You're like a wine, you get sweeter with time." Being the last line of the song, I think that it really just closes the song out perfectly because of its clever metaphor.  
Why'd Ya Do It: 
'Why'd Ya Do It' is my most listened to song on the album because of its really intriguing and fast tempo makes it a very interesting song to have on repeat. To me, the song is a combination of a warning to herself as well as a warning to her listeners about the struggles of being in love. Her questions of 'Why did you do it? Why did you fall in love? It's a hard fall from way up there. Come down, dear, that's enough." The song is most likely her expressing the inner conflict that she has in her brain when she does fall in love and how she tells herself to stop feeling like that before she gets hurt. I think it is an incredible song definitely one of my favorites.  
Overall, Sierra Ferrell's album 'Long Time Coming' is incredible and features many different styles of music as well as very clever lyricism. Even though there are only three songs in this review, the album itself has 12 different songs that are all incredible. I definitely recommend listening to the album in its entirety if you have any desire to branch out your music taste.