Streetcar is an impractical and ill-timed addition
Omaha recently announced its intention to build a streetcar around downtown Omaha. While streetcars can serve as a tool for economic advancement, they are ineffective for quick, convenient transportation. Though the plan has benefits (any new car-free transit infrastructure is exciting), the streetcar is not an efficient development and the money that would've been spent on it would be better invested elsewhere. 
The planned streetcar route spans from 10th to Saddle Creek. It would connect Blackstone and UNMC to the downtown area. While greater connections between communities can be positive, these transportation routes are already serviced by ORBT and Metro buses. ORBT runs down Dodge and Douglas, Route 15 travels down Farnam and Harney and Route 11 traverses Leavenworth. The area the streetcar would serve is already relatively dense with public transportation options, whereas other areas in Omaha have a dearth of transit. 
Omaha is in dire need of a rapid transit service from north to south. ORBT, though it is not perfect, provides quick transportation across an east-west axis. The logical next step is building a rapid transit line between North and South Omaha, making travel between those locations more convenient. If the city is planning to invest in transportation, we should focus on areas that are currently underserved, like travel from north to south. 
Along with investing in rapid north-south transit, Omaha should expand its bus lines further West to serve suburbs like Millard and Elkhorn. There are only four bus routes that serve areas west of 120th street. There is one bus line that serves the Papillion/La Vista area. If the city is going to invest money in transit, we should expand our bus lines so they are more accessible for people from all over the city. 
The streetcar will be funded using tax-increment financing, or TIF. TIF works by loaning money to new developments that are expected to raise the property values of land around the development. The increased property taxes of the surrounding land pay back the loan. Most TIF loans have to be repaid after 15 years, however, designating an area as "extremely blighted" gives developers an extra 5 years to repay the loans. The hope with the "extremely blighted" designation is that TIF can be used to vitalize traditionally underserved areas. The area between Blackstone and downtown is not "extremely blighted"- it has been gentrified several times and rent prices for businesses and homes are extremely high in Blackstone specifically. TIF money intended for underserved areas should be used for economic development in areas that need it, not a streetcar in a corridor that gets a new trendy neighborhood every couple of years. 
One exciting element of the streetcar is that it will be free, at least initially. It can ease traffic downtown and provide another option for public transportation for residents and tourists alike. Visitors who arrive in Omaha for the College World Series could benefit from the streetcar's proximity to both T.D. Ameritrade Park and many downtown hotels. The streetcar is not a bad decision for Omaha, per se, but our money could have been better invested elsewhere to better strengthen Omaha's public transportation. 
Your donation will support the student journalists of Omaha Central High School. Your contribution will allow us to purchase equipment and cover our annual website hosting costs.
About the Writer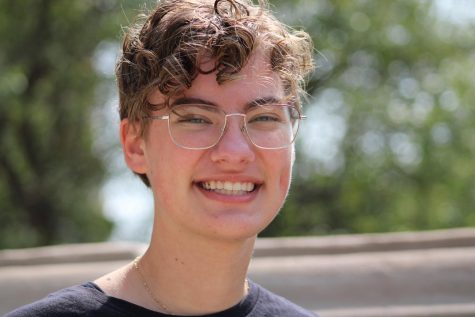 Noa Gilbert, News Editor
Hello, Register readers! I'm Noa Gilbert, (they/them) and your news editor! I'm a senior and this is my second full year on staff. In my free time, you...