Mentorship program aims to empower freshman leaders
Even before onset of the COVID-19, the transition between middle school and high school often proved to be a strenuous, humiliating experience for the freshmen class. With the restrictions that the pandemic has placed upon social interactions and the wide reaching effects it has had on students' mental and physical health, the freshman experience has only become more taxing. In an attempt to alleviate the difficulties that class of 2025 will be facing this year, the Freshman Advisory Board, a group composed of Central students, alumni, and community partners, has launched a new Freshman Mentorship program, which partners freshmen up with upper class men. "All students are getting back to the idea of being involved in school community. Learning has changed since the implication of the use of iPads. Schooling, the look of school itself, has changed. We want to help with that transition as we know that coming from middle school to high school, there's increased rigor.", said English Department Head and Freshman Mentorship leader Katherine Rude. "The priorities of the program are to help our freshman understand the traditions of Central High School and the school community, and the culture here. Each teacher team on the freshman academy nominated between five and seven students that they saw leadership potential in. We wanted to invest in those students in particular and support them with grades and learning the school culture in hopes that they become leaders for next year's incoming freshmen."
The program partners the freshmen chosen with juniors and seniors that signed up to participate. Prior to the pairings, Rude met with each group of students separately to talk to the, about the purpose of the program. Thus far, the freshmen and upper classmen in the program have met on three occasions during advisement period where they took part in activities intended to encourage the students to become involved in the school community and stress the importance of their academic pursuits. "I thought it would be an interesting way to get involved.", said senior Callan Maher, who signed up for the program under encouragement from her English teacher. "The first meeting was awkward because it was pretty forced. Going into it, I couldn't see it going any other way because of how freshmen and seniors rarely interact. But I was very open-minded and excited. When I met him he was very quiet and I wanted to connect, but I didn't want to make it forced. The truth is, we connected over a book series that we both liked. I was very happy to find common ground. The next time we met, it was way easier."
When asked whether the program as a whole has been successful, Maher said, "I think it's too early to tell. I think that everyone is still dealing with awkwardness between the mentors and mentorees. I've seen a few people that clicked with their partner immediately, but I'm not alone in the sense that most of these relationships are progressing slowly. I don't think connections like the kind they want have been formed yet but I do know eventually we'll being doing more activities and I think that's we'll begin to see a spark between people." Indeed, the leadership of the program is looking to expand the activities offered, with Rude saying, "We hope to grow it. We're going to be taking new applicants for mentors this spring and we hope to have some of those mentors participate in Freshmen Jumpstart in July to start forming those relationships a little bit earlier. In the fall, hopefully our partnership with Kellom Elementary grows and we'll doing more service projects with them and then we'll see where it goes from there."
Your donation will support the student journalists of Omaha Central High School. Your contribution will allow us to purchase equipment and cover our annual website hosting costs.
About the Writer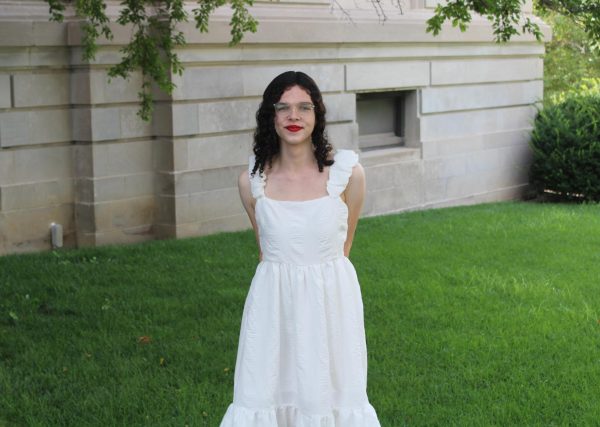 Jane McGill, Executive Editor
Hello Register readers! I am Jane McGill, endlessly inquisitive senior and Executive Editor of The Register. I oversee all aspects of The Register's...