Pep band returns to basketball games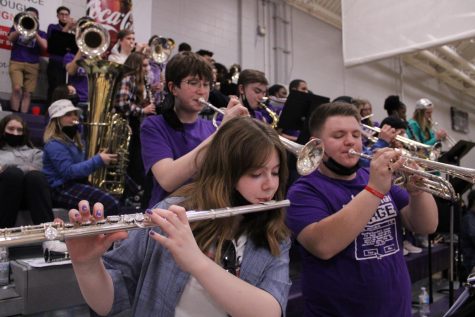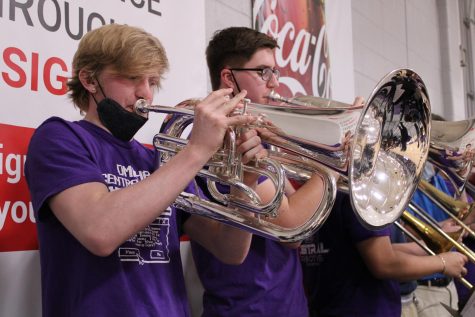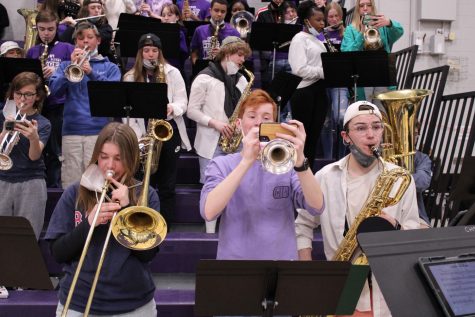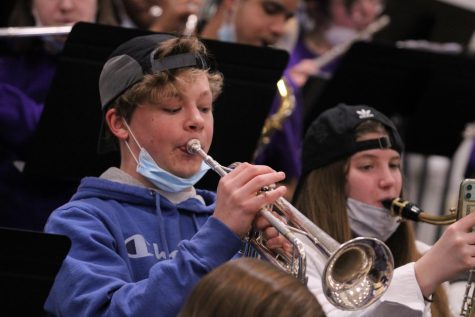 When the Eagles played on their home court for the first time this basketball season, the pep band was right there with them, playing throughout both the boys' and the girls' games. Then, they left, going on a two-month hiatus, missing seven home games, only returning to the gym for the final two games of the season. 
Band director Chiyo Trauernicht made the decision for the band to go on hiatus due to the rise in cases as the Omicron variant of Covid-19 began to surge. She brought it back in mid-February when she felt it was safer. 
 "She just thought it would be putting too many people at risk if we played at the games coming right back from winter break, because I feel like that's when Omicron was the worst," senior drum major Emilio Parra-Garcia said. "Now that it's at least a little bit under control, she feels as though it is important for us to be at these last two home games and show our support for the basketball players." 
The other senior drum major, Elana Elder, thinks this was the right decision, for the sake of the safety of the band, but she is glad that they were able to return in the end. 
"I'm really glad that we were able to come back," Elder said. "First of all because we're going to play for state, and because I think it's a really good experience for the freshmen and sophomores, because they've never had the experience of playing in pep band before, and it's really fun, especially when the game is close or if the student section is good." 
One of the band's priorities in returning to games is the safety of its musicians. The final two games of the season were played before the OPS mask mandate was lifted, and Parra-Garcia felt alright about the environment in which they were performing. 
"I feel safe being in the pep band area just because we're masked," Parra-Garcia said. "But there is a little bit of fright there, especially when a lot people in the student section aren't wearing masks, or when everyone's playing their instruments and they're blowing in your direction." 
Despite this bit of fear, Parra-Garcia feels good about returning to the games, just like Elder, and he feels that with its return, the band is bringing a better environment to the games. 
"I don't even know if the student section listens to us," Parra-Garcia said, "but I know that, especially being a drum major, we get to hear things that a lot of the people in the band don't. My band directors have come up to me and said that the coaches are really happy that we're back, and that even though it might not seem like it or we might not feel it in the moment, we're just creating a little bit of a difference, and there's a sense of school spirit when the band is there." 
Elder and Parra-Garcia are especially happy that they could return as seniors, because they know that not every student has had that same opportunity in the past couple of years, and they don't want to take it for granted. 
"I feel bad for the people who weren't able to do band last year," Elder said, "because especially—and this has become more and more clear to me—as a senior it feels very important to me that I get these "the last" things, and that they're good. These are things that people always tell you you're going to remember. You're not really going to remember your classes, it's going to be the extracurricular things that you do." 
Your donation will support the student journalists of Omaha Central High School. Your contribution will allow us to purchase equipment and cover our annual website hosting costs.