The implications of Groene's resignation
On February 22, 2022, State Senator Mike Groene resigned after a female staffer said she found zoomed in pictures of herself on Groene's laptop. The staffer said that he had emailed the photos to others, with captions that were of a "sexual nature" according to KETV.  
State Sen. Megan Hunt, Omaha's District 8 representative, sent a letter to the Nebraska Attorney General, Nebraska State Patrol and state capitol security calling for an investigation into the subject.  
"Things like this happen because we let people get away with it," Hunt explained. "It just reflects how the systems we have in place always benefit the people in power, which is typically not the survivor or the victim." 
Groene's actions have come into question many times on previous occasions. During the 2019 legislative session, Groene proposed a bill to change the regulations around massage therapy for equines. A woman contacted Groene, criticizing him for spending time on a bill about equine massage regulations rather than a bill to place social workers in schools. 
 Groene responded by explaining "asses" are equines and suggesting that she should seek out an equine massage, stirring up controversy and in Groene's own words, a "social media firestorm." Groene is also well known for intentionally contracting COVID-19, which he successfully did during October of 2020.  
State Sen. Hunt questioned the frequency of these events happening in the past. Within the Unicameral, Groene was known as a gruff and often offensive or inappropriately spoken conservative, who personally had no care for being "politically correct" according to KETV.  
"This whole thing happening makes me question, how much has this thing happened before, where people got away with it or it was reported, and nothing was done about it. Senator Groene has a reputation for this behavior. I can't speculate about whether it has happened before, but he flipped off a colleague on the floor of the chamber during debate, he has thrown things in committee hearings, has yelled at staff in front of people," Hunt said. "We have this really long history of knowing he really has this inability to control his own behavior." 
Hunt also questioned whether any complaints had previously been filed against Groene.  
Hunt explained how the current system makes it hard for victims of workplace harassment or sexual harassment to file complaints within the State Legislature.  
"There could be a more defined way for employees to report bad behavior. Our legislative harassment policy only offers one path to getting a complaint handled and that is through the senators on the Legislative Executive board," Hunt said.  
Hunt argued that this becomes especially difficult when the complaint is filed against someone who may be on this board or who may have friends on the board.  
"Will they not want to take the report seriously? If people have the perception that their reports are not going to be taken seriously, because maybe it is about someone on the board, or one of their friends, then they're not going to report, so this isn't really an effective system and solution that we have in place now," Hunt explained. 
Multiple State Senators have now come forward explaining the culture of misogyny within the Unicameral. State Sen. Jen Day explained that she was warned about the "really deep misogyny" that exists within the Nebraska State Legislature for female senators and workers. 
"There are all kinds of examples. There's a senator who has tugged on my ponytail, you know, walking by me. I'm 35. I'm a mother. I don't need that shit. There's one guy who always walks by me [with his hands up], and he like inches past me and he's like, 'Oh, I don't want you to do any Me Too stuff,' and it's like, just walk by. Like, you don't have to act like anyone is doing anything to you. Nobody is doing anything to you. Just act normal." 
Hunt will continue to work to change the culture within the Unicameral and talks about establishing an independent ethics committee. She said that the process to create this panel is already underway, and that the Unicameral is working through the steps to instate it. 
"We have to look at what we are going to do in the legislature from preventing it from happening in the future. Do we need a legislative ethics panel or an independent ethics committee? A lot of other state legislatures have boards like that, and maybe this would help with meaningful education about sexual harassment and workplace harassment," Hunt explained.  
Hunt mentions that there are still many inclusivity problems within the Unicameral, keeping the norms of the legislature in the past.
"If you look at the Nebraska legislature, it's much more conservative, it's much whiter, male and old than the average Nebraskan is. We don't really reflect the people that we serve. As long as we have this kind of old-fashioned institutional norms and status quo around harassment, for example, that's just going to continue," Hunt says.   
Hunt said that the State Legislature will not work properly if it is not inclusive to all.  
"If we are part of an institution that has a misogyny problem, that has a racism problem, that has issues with inclusion," Hunt said, "then were not going to be able to serve the people of Nebraska as well as we could have, because that's what we are here for." 
Your donation will support the student journalists of Omaha Central High School. Your contribution will allow us to purchase equipment and cover our annual website hosting costs.
About the Contributor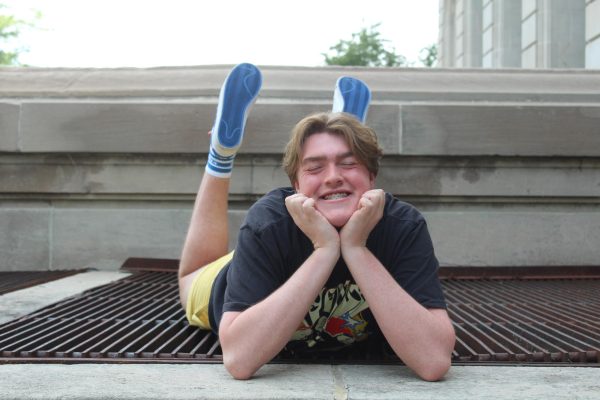 Charlie Yale, Co-Editor-in-Chief
Hi! My name is Charlie (he/him), and I'm a senior. This is my fourth (and final </3) year on staff, and I'm the Co-Editor-in-Chief. I was voted most...