The Busy Bunny
What Bad Bunny has been up to as one of the worlds largest recording artists.
May 5, 2022
Proud Puerto-Rican Benito Antonio Martínez Ocasio, commonly known by his stage name Bad Bunny, has been circulating the internet and taking part in numerous ventures. Being one of the world's largest recording artists isn't easy, and Martínez has shown his commitment. From a brand-new album to going to his first Met Gala, The Big Bad Bunny has truly been everywhere. 
 Martínez has shown he can take on a variety of unexpected interests, but one thing that can be expected is a man who defies the normal. He has been working with numerous photographers and companies such as Highsnobiety and Jacquemus. In these shoots, fans can see Martínez continue his reputation of defying gender norms by modeling creative outfits that incorporate factors never seen before. The Reggaeton artist has never been one to shy away from a good outfit and it seems like he's not stopping anytime soon.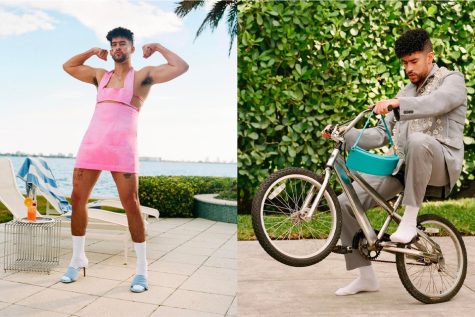 While mainly be a music artist, Martínez has also taken a dive into the world of acting. Most recently, a Marvel role was added to his resume. He will be playing as Juan-Carlos Estrada Sanchez, a Mexican wrestler who acquires strength from his ancestors and goes by the name "El Muerto." Martínez will be the first Latino superhero to lead a live-action Marvel film. Bad Bunny fans will know that this role is perfect for Martínez because of his love for Wrestling.
 According to Entertainment Weekly, Martínez stated, "It's amazing. It's incredible. I love wrestling. I grew up watching it, and now I'm a wrestler," to the crowd at CinemaCon. This isn't the first acting job for Martínez, past appearances include "Kitty Paéz" in "Narcos: Mexico"as well as "Bullet-train", which is set to release in July 2022.
A world with multiple Bad Bunnies would be something unimaginable, and to many fans just a dream, but it's come true. Two new sculptures were created to be displayed at "Madame Tussauds" Wax Museum in New York and Orlando. Each figure took six months to complete and has original clothes that Martínez donated.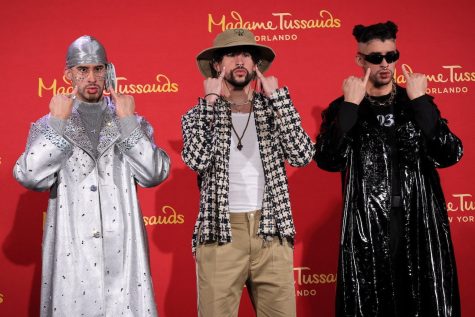 One wax figure (left) is wearing the original outfit that Martínez wore when performing at the 2020 Super Bowl Halftime Show alongside Shakira. The second figure (right) is wearing an all black ensemble worn at his WWE Royal Rumble performance as well as the "Booker T" music video. Both figures are displayed holding up Martínez's signature pose and were carefully crafted alongside him.  
After the great success of his past musical achievements, Martínez is returning with a new tour and album that's constantly being teased, making fans eager for the release. Martínez and his team have been showing clues as to what the album might look like through social media platforms, including semi-mysterious TikTok's. Fans can even call a phone number that plays a snippet of an unreleased song when called.
The new tour will be called "World's Hottest Tour" and has large expectations. Tickets started selling out within minutes. The anticipation, and prices, are increasingly rising. The tour will take place in the summer months and will be one to remember. 
It might seem hard to imagine that one name could be doing all of this, but it's not surprising when realized that Martinez has only been in the limelight for around five years. This is truly monumental when looking at the empire that's been built around him. From having immense popularity in not only Spanish speaking countries, but around the globe, to being the top played artist on Spotify, fans can only wait to see what Martínez does next.