Olympic figure skating has become expensive daycare
Olympic figure skating sees a continuous rise in young competitors; harmful side effects
May 24, 2022
Over the years, Olympic figure skating, especially women's figure skating, has become dominated by teenagers. These days it is rare to see an adult on the Olympic podium. This is mostly because modern figure skating coaches take advantage of how small young female skaters are and use that to land record-breaking jumps that almost guarantee a gold medal. This culture forces young children to work tirelessly under harsh coaches until they get sent to the Olympics, after which most of them retire.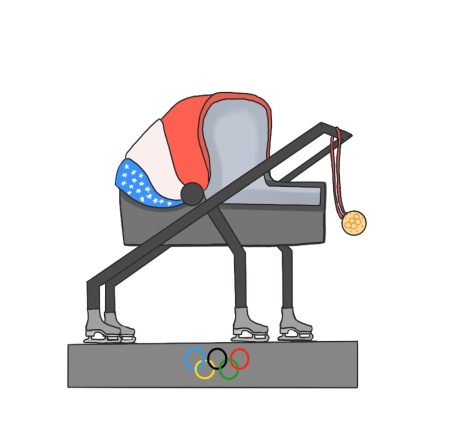 In figure skating, the highest scoring and thus most difficult jumps are the quad jumps of the toe loop, salchow, loop and lutz jumps where the skater does four rotations in the air and the triple axel where a skater does three and a half rotations in the air. Being able to land these jumps takes years of training that is usually harmful both physically and mentally. Many skaters form problems like eating disorders and joint problems because of this training.  
Russian women's Olympic figure skating coach Eteri Tutberidze has a track record of very harmful practices in the sport. Tutberidze takes advantage of the smaller weight of pre-teen skaters and uses that to have them land quads in competition. The problem with Tutberidze's coaching style is that after her skaters turn 17, they can no longer land the jumps that they used to and suffer from major physical injuries. This is because once the girls hit puberty, their weight distribution changes. Since Tutberidze focuses on weight advantage instead of building actual muscle and skill, they can no longer land those complicated jumps.  
I think that if the Olympics set an age limit on Olympic figure skating, we would see less pressure on young skaters to put their bodies through intense training so early on in their life. Injury would probably be less common than it is now if skaters were trained to properly work with their bodies instead of against them. There would probably also be fewer cases of doping scandals because teenagers wouldn't need to be drugged to perform well. I think that the fact that there is no minimum age requirement is irresponsible. 
The Kamila Valieva situation has especially proven this point. After amounts of Trimetazidine (a banned drug in the Olympic circle) was found after a drug test on Valieva, the age minimum on the sport has been brought to light by the media. Because Valieva is only fifteen, she naturally follows the adults in her life without knowing what is truly right or wrong. These young skaters are being controlled by these adults with little to no say in what the coaches are doing. This vulnerability would be greatly alleviated if the age minimum was greater for these skaters.  
Personally, it makes me so upset to see these girls (who are my age and younger) going through this sport and having so much weight put on their shoulders to be the best of the best with little to no control over their life.