Senior participates in Boys Nation
Last summer, a Central senior, Holden Fershee, was one of 100 boys chosen for Boys Nation.  
Central has a history of doing well at Boys State and Boys Nation, due to the school's diversity preparing students to get along with all types of people.  Keeping that tradition of Central excellence going, Fershee and Joshua King were a part of the 200 students chosen for Nebraska Boys State. 
Boys Nation and Boys State may sound like a middle school guys group chat, but they are prestigious American Legion programs.  Founded in 1946 to combat socialism, Boys Nation is a way for high school boys to learn about government through becoming the government itself.  (There also exists a Girls Nation program for high school girls.)  At the state level, hundreds of juniors in high school get to spend a week in June in their state's capital, running for government positions in the judicial, executive and legislative pathways at the city and state level. They stay overnight in dorms with all expenses and meals paid for by the local American Legion chapter. 
  "We would be up at 6:30, breakfast done by 7 and lined up for flag at 8, then go to court proceedings," described Fershee. Then students act as senators and run for positions at the national level, Boys Nation, in Washington D.C. 
"We have a lot of Central students that go down there, do executive, legislative, or judicial route and all end up going to good colleges," Fershee said.  
The boys learned quickly that being charismatic is at least as much a part of winning votes as one's ideas.  Each student receives $5,000 of fake currency, of which they can only spend $1,500 on a certain campaign, so relationship building is huge to earn campaign funding. 
"I was able to meet people from all over the state and grow lasting relationships," said King, elected city mayor and outstanding citizen.  King also made it farther than any African American Nebraskan in governor primaries.  
 Fershée also represented Central exceptionally well.  He was chosen to represent Nebraska as one of two senators to go forward from Boys State to Boys Nation. Despite initially losing an election for Supreme Court chief justice, he earned the position because it was determined that he controlled the courtroom better than the chosen chief justice. He also wrote up two of the court decisions himself.  Boys Nation flew him out to Washington D.C. for free.  
Once there, the 100 boys were separated into two random parties, Federalist and Nationalist, which must agree on a party platform.  Each platform then elected a party president and secretary, as well as a common president, vice president and president pro tempore, or the highest ranking senator.  Finally, each senator proposed a bill or resolution to be voted on by the others. Fershee proposed the standardization of USB charger on phones.  
"They charge faster, and the EU just moved to them to reduce e-waste and reduce consumer cost," he explained. 
 Fershée suggests Boys or Girls State to anyone remotely interested in any branch of government.  However, Fershée recommends going in with an open mind because, "There were kids at Boys State who had graduated classes of eight," he said. He also suggested talking to people before one tries to represent them. If accepted, Fershée's final advice is, "Don't start at Boys State with sacrificing your beliefs." 
It would be impossible to walk away from this experience without learning an immense amount about government, but Fershée also learned a good deal about himself.  "It definitely made me more interested in law, but I'm not very interested in running for things," he noted. He also reflected, "It reshaped my view on why people are proud to be American." 
Your donation will support the student journalists of Omaha Central High School. Your contribution will allow us to purchase equipment and cover our annual website hosting costs.
About the Writer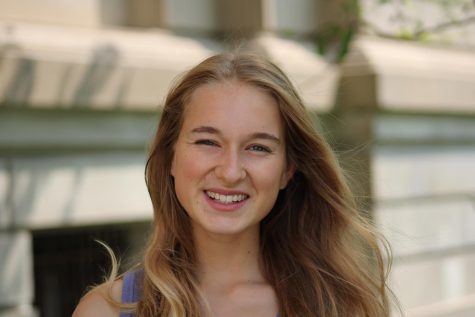 Chlöe Johnson, Staff Writer
Hey. I'm Chloe Johnson (she/her). I'm a senior and this is my fourth year on the Register. Staff voted me most likely to have been a hippie in the 60s,...