Darin Ruf reflects on season
Omaha native and Creighton University graduate Darin Ruf's season ended last month after the New York Mets lost to the San Diego Padres in the National League Wild Card. Ruf began the year in San Francisco as a designated hitter for the Giants. On August 2, 2022, the Giants traded him away. Now a DH on the Mets playing with the slugging likes of Daniel Vogelbach and Pete Alonso, he reflected on the past season and the trade process. 
"I was hanging out at our place in San Francisco. I was swimming with our kids," Ruf said. "And I came in and had a missed call from our manager. So I called him back." 
Ruf said that being traded can be hard for players, not only physically but mentally.  
"I mean, it's hard. Physically, it was really hard, obviously. But you know, mentally and emotionally was probably the most difficult things to deal with," Ruf explained. "I was happy I was with my family, and then, you know, to have to go to somewhere that was a very, very different location." 
Ruf said that he had to go to the clubhouse and pack within hours. Later that day he was on a plane to meet the Mets in Washington, DC in their series against the Nationals.  
"I had to then go into the clubhouse in San Francisco, which was, you know, very difficult, as well," he said, "to say goodbye to everybody. My family stayed back and kind of packed up our house in San Francisco." 
While on the Mets, Ruf had the opportunity to pitch as a position player, where he broke records for the team. He became the first Mets position player to pitch two scoreless innings in a row. His line? Two innings, one hit, no runs, no walks and 10 strikes in 14 pitches. 
"I mean, obviously your team is getting beat pretty bad if a position player has to come in and save the bullpens," Ruf explained. "We were getting beat pretty bad in Atlanta. I pitched the year previous in San Francisco for an inning. I think I was maybe one of the only position players with experience doing it." 
He then detailed how to keep the likes of Robert Acuña Jr. and Dansby Swanson – two top hitters in the league – scoreless.  
"The plan was only do one inning. But I mean, obviously want to position players pitching hitters tend to be a little bit more aggressive," Ruf said. "So [you] throw 55-60 miles per hour. And so I told [the manager], I could go to one more. But yeah, you know, it's fun at the time, and you got to enjoy it. Definitely… exciting." 
Ruf, a former KBO League player, was looking forward to returning to South Korea this summer to play in a showcase. But much in the way players find out they are being traded over Twitter leaks, Ruf found out the showcase was canceled from a South Korean beat reporter. 
Ruf talked about how his KBO experience prepared him for returning to the MLB. 
"I think going over there was pretty much the best thing for me. I had the support of my team. I really struggled the first month, adapting to being in a different country, and being the guy the team counted on to do a ton," he said. "And I think it having the mentality of–for three years–[that] this team is counting on me to perform every single night to drive in runs [helped]." 
Ruf appreciates the wonderful ride that baseball has taken him for. But he said that it is nearing time for him to hang up the spikes.  
"I'm on your contract for one more year," Ruf said. "And then we'll see from there. If I go out and have a good year, I'll leave over in the possibility of playing maybe one more year, but I don't I don't see myself playing more than two more years max, for sure." 
"This could very possibly be my last year," Ruf said. "But we'll see how it goes." 
Your donation will support the student journalists of Omaha Central High School. Your contribution will allow us to purchase equipment and cover our annual website hosting costs.
About the Writer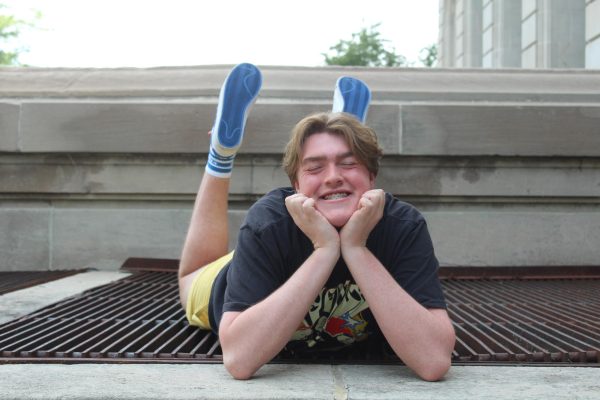 Charlie Yale, Co-Editor-in-Chief
Hi! My name is Charlie (he/him), and I'm a senior. This is my fourth (and final </3) year on staff, and I'm the Co-Editor-in-Chief. I was voted most...