Landstrom not retained as head coach
Former head football coach Jay Landstrom will not return to the helm of the football program next season.  
"Coach Landstrom and I met a week after the season ended," Athletic Director Rob Locken said in an interview. "We decided to go a different direction with our football program." 
Landstrom led the team to an 11-25 record in his five-year tenure as head coach – which included the 2020 season that was canceled for all OPS schools because of COVID-19 concerns.  
"We thought it was time for a new voice," Locken said.  
Locken explained that the status of the rest of the coaching staff has been left up in the air.  
"That part is unique. The best way to get into it is, whoever we get for the next head coach has the autonomy to pick and choose and see what best fits for their system," Locken said. "It just depends on where they're going to fit in the new staff."  
According to Locken, the listing for the position was a week old as of Nov. 11. He explained the process of vetting and interviewing candidates.  
"Once it closes then HR goes through, vets all the candidates, then they will send us a list of candidates that we will reach out and schedule interviews with," Locken said. "An [example timeframe] would be we had a soccer resignation mid-September. We posted that October; we're interviewing this week for those soccer positions. It's priority one to get it filled, but we are one position in front of a district of 90-some buildings." 
Locken re-emphasized his gratitude for Landstrom and all he's contributed to the program. 
"I appreciate coach Landstrom and his work for the five years," Locken said. "He worked very hard with the program."  
Landstrom touched on the emotion of the situation. 
"I'm going to miss coaching here," he said. "As far as the season went, obviously, our record wasn't what we wanted it to be or needed it to be. But, we played a tough schedule, and we had a great group of kids and our players kept battling, kept playing hard, stuck together." 
Despite the end of his tenure as head coach, Landstrom said that he saw many bright spots for the future of the program. He talked about junior lineman Caleb Pyfrom, who has already gathered multiple Division I Power Five offers. He emphasized the great future for freshman quarterback BJ Newsome, who played his first game against Elkhorn South, a team with only one loss on the year. 
Landstrom said that he appreciates the opportunities afforded to him by Central and is excited to continue teaching.  
"I want to take the opportunity to really thank Central, you know, I've coached football and basketball here for 17 years… It was a good run," Landstrom said. "I'm still glad I'm teaching here for sure. Teaching comes first." 
"If I could, I would still be the coach here," Landstrom said. "But I was not given that opportunity." 
Your donation will support the student journalists of Omaha Central High School. Your contribution will allow us to purchase equipment and cover our annual website hosting costs.
About the Writer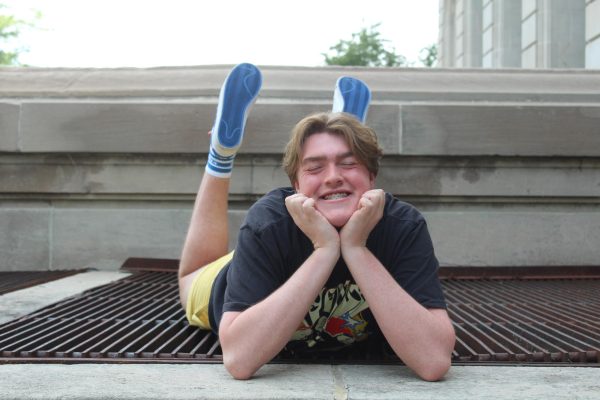 Charlie Yale, Co-Editor-in-Chief
Hi! My name is Charlie (he/him), and I'm a senior. This is my fourth (and final </3) year on staff, and I'm the Co-Editor-in-Chief. I was voted most...