How the STEM gap starts
Girls and women are tracked away from science and math throughout their education.  
According to American Association University of Women (AAUW), women make up a mere 28% of the workforce in science, technology, engineering and math (STEM) fields in college. There are also gender gaps in the fastest growing and highest paying jobs of the future. 
Lack of confidence: 
While it is true there are many reasons for the gender gap, AAUW highlights the four most prominent: gender stereotypes, male-dominated cultures, fewer role models and math anxiety.  
The problem starts as early as preschool for girls. 
While research shows no innate cognitive biological difference between men and women in math, the myth of the math brain is self-destructive in many cases. 
"Many girls lose confidence in math by third grade. Boys, on the other hand, are more likely to say they are strong in math by 2nd grade, before any performance differences are evident," as reported by AAUW.  
Women need to not only be encouraged to study these subjects but to continue to pursue them as a career. STEM Women, writes, "specifically, computer science and engineering and technology fields show the largest gender imbalances, from current students, to graduates and workforce figures." 
Representation: 
Thirty out of one-hundred STEM students are female. 
Multiple of the highest-paying STEM professions, such as computer science, have the lowest percentages of women workers. 
"38% of women who major in computers work in computer fields, and only 24% of those who majored in engineering work in the engineering field," according to research from AAUW.  
Girls have fewer role models to inspire their interest. There are limited examples of female scientists in books, media and popular culture. There are even fewer Black women role models.  
Women are paid $15,000 less per year than men. Latina and Black women in STEM earn $33,000 less than men.  
STEM states, due to the rapid growth of the number of men graduating in these subject areas, the percentage of women in STEM has gone from 25% to 24% and finally up to 26% where it is currently stalled. Women in engineering and technology graduates has remained consistently low at 15%. Specifically speaking, computer science-related degrees has seen a low percentage of female graduates. "From 2015 to 2018, the percentage has gone from 16% to 15%."
Women to admire:
Ana Roqué de Duprey wrote a geography textbook for the students she taught at her home. It was eventually adopted by the Department of Education of Puerto Rico. She has a deep passion for astronomy and education. Changing the world, she founded several girls-only schools along with College Mayaguez. She also was instrumental in the fight for the Puerto Rican women's right to vote 
Lillian Moller Gilbreth was an industrial engineer, specializing in efficiency and organizational psychology. She was the first of many things including the first female commencement speaker at the University of California, first female engineering professor at Purdue, and first woman elected to the National Academy of Engineering. 
Last but certainly not least, Ruth Rogan Benerito was an American chemist and pioneer in bioproducts, credited with saving the cotton industry with her discovery to produce wrinkle-free, stain-free, and flame-resistant cotton fabrics. She did not stop there, developing a method to harvest fats from seeds to be used in intravenous feeding of medical patients. Later in life, she received the Lemelson-MIT Lifetime Achievement Award for her contributions to the textile industry and her educational efforts. 
Benefits for women:
Women should be given equal opportunity to pursue whatever they dream. They need to be given the same tools and amount of confidence as men.  
Giving women these opportunities in STEM careers will help to narrow the gender pay gap and enhances women's economic security. 
This also ensures the greatest minds are working in the STEM field. Besides this, it prevents bias and doubt in these fields and the things they produce. 
"If you know you are on the right track, if you have this inner knowledge, then nobody can turn you off… no matter what they say." – Barbara MacClintock, scientist and cytogeneticist. 
Your donation will support the student journalists of Omaha Central High School. Your contribution will allow us to purchase equipment and cover our annual website hosting costs.
About the Writer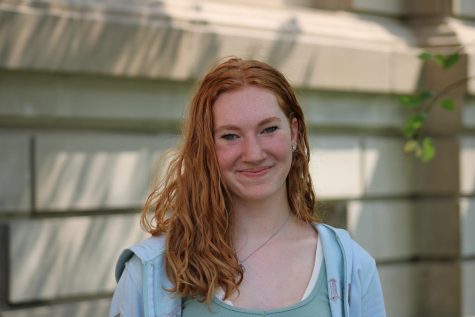 Ella Levy, Opinion Section Editor
Hi my name is Ella Levy and my pronouns are she/her. I am a junior and this is my second year on staff. I am the opinion editor. I was voted most likely...