'Derry Girls' final season emotional, hilarious
Lisa McGee's comedic masterpiece captures the struggles of growing up in a world in chaos
Disclaimer: The following article contains spoilers for the third season of Derry Girls.
After three seasons following the adolescence of five Northern Irish teenagers, BBC/Netflix series "Derry Girls" has come to an end. "Derry Girls" is a masterpiece of modern television, written and created by Lisa McGee, featuring  a charmingly complicated friend group and universal storylines. Season three is representative of the best elements of the series, combining Northern Irish history and humorous coming-of-age.
"Derry Girls" takes place during the Troubles, the conflict between loyalism and republicanism in Northern Ireland. The show however, is far from a dark war drama. While the political turmoil is always in the background and affecting the story, the heart of "Derry Girls" is the girls themselves- Michelle, James, Clare, Orla and Erin- and their shared shenanigans as they grow up and develop their identities. "Derry Girls" shows that even when the world is thrown into political chaos, life continues- a sentiment that young people who have spent much of their adolescence in a pandemic-ridden politically chaotic world can deeply relate to.
In season 3 episode 3, Erin, Orla, Michelle, and James are on a train for a summer holiday, when James inadvertently switches his bag with that of another passenger. When they open the bag, they discover some unexpected supplies- cash and a gun.
"Derry Girls" doesn't make light of the terrorism across Northern Ireland, but neither does it minimize the real effects of the violence. The friend group is understandably horrified at the cash and gun. But "Derry Girls" doesn't dwell on horror. For its characters, who have grown up knowing violence, the potential for terrorism has become normal.
"Derry Girls" places us in the perspectives of young people growing up during times of crisis. When they discover the bag's contents, the protagonists spend a few moments in shock. But people rarely stop in the face of shock and horror. Despite everything, young people continue to be young, making mistakes and sharing in growth. So, Erin, Orla, Michelle, and James try to switch the bags back in a hilarious show that resolves with some wonderful high-heel holographic boots.
For high schoolers today, who have spent two years dealing with the horror of the pandemic, "Derry Girls" is deeply relatable as well as entertaining. We 've become desensitized to consistently traumatizing news. Quickly rising death counts, a total restructuring of daily life: the pandemic challenged everything many people knew. Yet, despite everything, the everyday dramas of teenage life continued. Friends fought, relationships started and ended. Throughout global tragedies, people continue to be fundamentally people.
The most transcendent moments of "Derry Girls" are when these dueling conflicts- personal and political- connect in the lives of the characters. Season 1 ends with a triumphant montage of Michelle, James, Clare and Erin joining Orla onstage during her step aerobics routine from the school talent show. The music cuts and the scene flashes to Erin's home. Erin's family is huddled in front of their TV watching in horror the news of a fatal bombing.
"Derry Girls" challenges us to realize that the joy of growing up and the trauma of conflict are not mutually exclusive. For Michelle, James, Clare, Orla and Erin, adolescence doesn't fit into binaries- good or bad, together or apart. What truly matters is the connection they build with each other and their moments of self-discovery despite their hometown's conflict.
Your donation will support the student journalists of Omaha Central High School. Your contribution will allow us to purchase equipment and cover our annual website hosting costs.
About the Contributor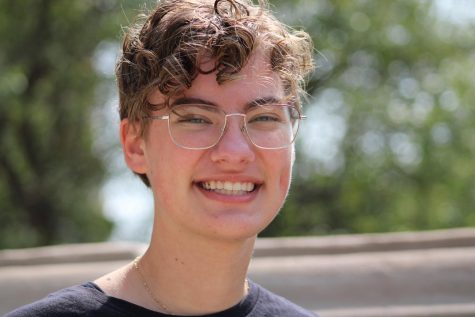 Noa Gilbert, News Editor
Hello, Register readers! I'm Noa Gilbert, (they/them) and your news editor! I'm a senior and this is my second full year on staff. In my free time, you...