Lowertown's 'I Love to Lie' showcases duo's emotional depth, versatility
The debut album by Atlanta's newest indie duo blends rock with their electronic lo-fi sound
Lowertown investigates the tumultuous nature of growing up and growing out of old friends in "I Love to Lie." Atlanta's newest indie duo released their first LP following their recent singles "Antibiotics," "Bucktooth" and "No Way." The duo, who are both 19 years old, were signed to the label Dirty Hit before they even graduated high school. Lowertown's freshman album blends rock with the electronic lo-fi the duo has become synonymous with.
"I Love to Lie" features the duo's specialty in versatility, every single song enjoyably contorting you in ways you would not expect. You will not get bored listening to "I Love to Lie." Lead singer Olivia Osby's telephone-esque vocals coupled with Avshalom Weinberg's pliability with the guitar pumps out hit after hit.
I was first drawn to Lowertown by their single "Best Person You Know" about two years ago, and since then, I have yet to be disappointed by the duo. "Friends" and "The Gaping Mouth" are two excellent EPs providing a precursor to "I Love to Lie." Each EP showcases a different strong suit of Lowertown's, and "I Love to Lie" ties the styles together.
Moving into "I Love to Lie," "My Friends" starts the album off with a downbeat, angsty tempo. It conveys the fast-paced life of New York, where Osby lived at the time of writing this song. She wrote it shortly after moving to the city and was adjusting to the "larger than life" and "spontaneous" crowd of the city, Osby said in an interview.  "My friends are thicker than blood/My friends will drive me around and leave me in the mud/My friends know I don't know how to trust," Osby belts. "I detest, I detest."
"Antibiotics" brings the album back into Lowertown's comfort zone after its violent kickoff. The floaty, low-fi melody of the song is complimented by a different, softer Osby. "Defibrilate me/Shine a light into my eyes/See if I'm still alive." Osby's vocals have a unique sense of clarity. She captures the essence of leaving a dead relationship, the exact circumstance she wrote this song after.
Songs like "I'm not" and "At The End" capture the grungy essence of the band's album seen in "My Friends." We are blessed with Weinberg solo vocals in "At The End" overtop his expressive guitar. Their combined funk creates a fun essence around the album.
Their music isn't perfect; no good music is. Many of their songs sound slightly off tune, out of key, which adds to the jovial and youthful heir the band creates. This shines particularly in "Goon," an unexpected favorite of mine on the album.
"Waltz in Aflat Major" is the song that truly brings out Osby's classical training, a complete shift in pace from the rest of the album. The slow song is accompanied only by a piano and Osby's flowery voice, which complement each other wonderfully. "You used to be exciting/But now you're bored," Osby hums. The music showcases an incredible depth, especially for a duo as young as Lowertown.
However, I do not know if any of the album compares to its conclusion, "It's Easy For Me." The guitar instrumental track is genuinely beautiful, I don't think there is any other way to describe it. The song serves as a marvelous final chapter, a bewitching bowtie that boxes the album up perfectly. The tension that builds and drops in this track alone–without any words whatsoever–is a true signifier of musical talent of the band.
Lowertown's freshman LP is exactly what I wanted to see from their first studio album. The duo shows their versatility while at the same time unwavering in what they built their first EPs on. I thoroughly enjoyed the album because of its intense depth, flowy versatility and all-around great production value. This album only excites me for what Lowertown has to come.
Your donation will support the student journalists of Omaha Central High School. Your contribution will allow us to purchase equipment and cover our annual website hosting costs.
About the Writer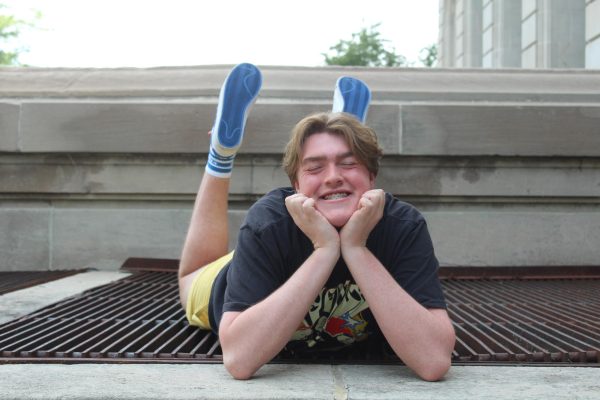 Charlie Yale, Co-Editor-in-Chief
Hi! My name is Charlie (he/him), and I'm a senior. This is my fourth (and final </3) year on staff, and I'm the Co-Editor-in-Chief. I was voted most...