Math Club wins UNL Math Day, organizes local competition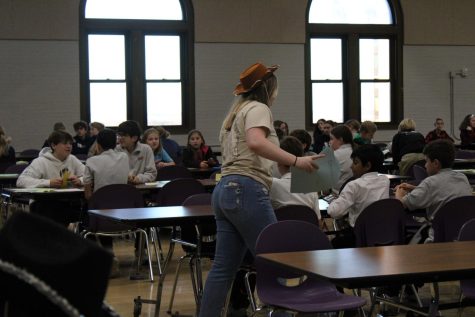 From bringing home first prize from UNL's annual Math Day competition to organizing a successful Western-themed middle school math competition, Central's Math Club has had a busy and successful few weeks. 
Math Club competed against teams from all over the state at UNL Math Day on Nov. 17. They won first place in the Math Bowl, beating out others in the Competitive Class. In addition to their team Math Bowl triumph, Central students individually scored well. Junior Sam Morris ranked 12th place in the individual competition, and sophomore Orion Schoell-Schafer was 17th. 
The Math Day competition began with bowl rounds. Out of the seven bowl rounds, Central only lost one round, to Scottsbluff.  "We did pretty well," said Schoell-Schafer. 
The team advanced to the semifinals, then to the finals, where they faced the Scottsbluff team again. 
Central beat Scottsbluff after a tense competition. "It was down to the final question," Morris said. "We were only ahead by one point." 
"We all hoped to get into the semifinals, then we won the whole thing," Schoell-Schafer said. "It was a really great feeling because no one expected it." 
Schoell-Schafer's favorite math problems are long, drawn-out problems. "There's so much hidden stuff you can find out," he said.  
Morris prefers probability and combinatorics problems. "I got introduced to math competitions last year and ever since then I've been practicing and getting better," he said. 
Schoell-Schafer and Morris both plan on continuing math after high school. Schoell-Schafer hopes to become a math professor. Both encouraged other students to take the E-Math class and participate in Math Club activities, such as the annual Middle School Math Competition.  
Middle schoolers come to Central from across the state to compete as individuals and teams. Central students are involved in all aspects of organizing this competition, from writing questions to judging bowl rounds to guiding students around the building. 
Senior Maddie Galloway was the Middle School Math Competition co-chair, along with senior Frank Luceri. "It was a really big group planning opportunity," Galloway said. "As the chair, I helped keep everything organized. I connected everything." 
She wrote questions for buzzer rounds and coordinated the entertaining awards ceremony. St. Vincent Depaul Middle School won the final team round, but Westside Middle School won overall. 
Middle schoolers first competed individually, completing a test with questions written by Math Club students. While those scores are being graded, they compete as teams in quiz-bowl-style buzzer rounds. 
Galloway's favorite contribution was grading the written tests. 
"We got to see how hard our questions were, I enjoyed doing it, and seeing what schools were doing the best, and trying to guess who's going to win," she said. "We had a great time." 
Senior Lily Callon volunteered as an ambassador. She directed students from St. Patrick's Middle School from room to room. 
"I helped them move throughout the school and I introduced the school to them, like a tour if they were to come here in the future," Callon said. She also cheered on her middle school teams during the buzzer rounds. 
The middle school math competition is Galloway's favorite part of math club. She encouraged all underclassmen who want to challenge themselves to enroll in E-Math. "You can make the middle school math contest happen," she said. "It's a chance for you to be creative and engage the younger generation in math." 
Callon's favorite part of the math competition was seeing the middle schoolers that she was the ambassador for succeed. "It was very rewarding to see all the work the middle schoolers had put into this, we had put so much work into this, and they were doing the same," she said. 
Your donation will support the student journalists of Omaha Central High School. Your contribution will allow us to purchase equipment and cover our annual website hosting costs.
About the Contributor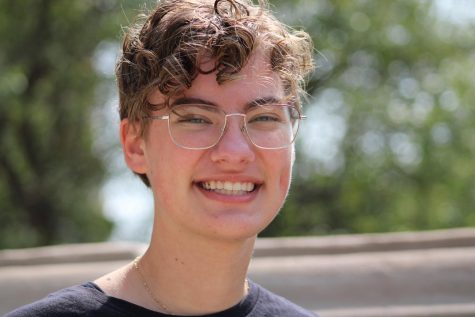 Noa Gilbert, News Editor
Hello, Register readers! I'm Noa Gilbert, (they/them) and your news editor! I'm a senior and this is my second full year on staff. In my free time, you...