First boys join Central step team
"Stepping" is a type of percussive African-American dance that has been around at Central since the 1980s. It is one of the most iconic shows of the pride that Central has in its Black history.  Traditionally, both Black sororities and fraternities performed step. "Now it's pretty much girls that do it," step team captain Amirra Cox said. 
That is, until this year, when step gained its first male members: sophomores Aiden Ramirez and Thadah Si.  However, this is not the first year due to any previous denial of boys; the step-team has been trying to become co-ed for quite a while. "We been trying since freshman year," Cox said. 
Interestingly, this year has one of Central's smallest ever step teams.  Cox believes this is a symptom of a bigger issue of teenagers being afraid of trying new things.  "I feel like the latest generations, they base their life off of what's told to them," she said.  
Within this context, the willingness of Ramirez and Si to try a new activity as the only males is all the more impressive and appreciated. Basketball games, where the team performs at halftime, just started, and the team is already sensing the value of their new members.   
"We'll do something and they'll do the same thing as us but add something. They have their own swag," Cox said. 
 Both boys had some background in dancing but never with step.  "I did not find out about step until the jump start and I was like, 'wow this is very cool I really want to try this,'" Ramirez recalled.  He has not regretted his choice. "It's just an awesome experience," he said. 
Si has also enjoyed step so far. "They were very welcoming," Si said. "Since this is my first year its harder to grasp things."  
This humbleness shouldn't fool anyone into thinking these boys are lacking skill.  "They catch on quick too," Cox said. 
When asked to describe step to someone who had not heard of it, "Making beats with your body" is what Si said. However, these students have not just made beats but also connections to what Central truly can be.  Having a multi-cultural and co-ed step team is just another example of the unique way Central does things: deeply rooted in tradition yet always excited to see what new faces can bring to the table. 
Your donation will support the student journalists of Omaha Central High School. Your contribution will allow us to purchase equipment and cover our annual website hosting costs.
About the Writer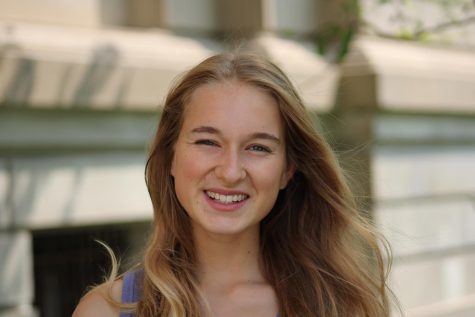 Chlöe Johnson, Staff Writer
Hey. I'm Chloe Johnson (she/her). I'm a senior and this is my fourth year on the Register. Staff voted me most likely to have been a hippie in the 60s,...