Social media creates consequences for high school, professional athletes
Social media has a large presence in today's society, meaning you must be careful what you share. We've seen celebrities like former president Donald Trump and PewDiePie be banned from media networks. Athletes also experience severe penalties for what is posted on social media like losing scholarships, contracts dropping, and getting banned from social media. Not just losing playing time.  
Elkhorn North's star basketball player, Britt Prince, was featured in a TikTok and received massive backlash. In the video, Prince's classmates call her "Brittler" and asked her "How many Jews she killed?" in reference to Adolf Hitler and the Holocaust. She responded, "six -million," using knowledge she was taught in school. The video went viral, and Ann Prince, Britt's mother and coach, ended up finding it. Using her knowledge of digital footprint, information about a person based on what they post online Ann Prince took precautions to make sure Britt kept her 30 Division I college offers. After she called Dan Radica, principal at Elkhorn North and Luke Forrd, the athletic director, Ann Prince emailed all the universities that had offered her daughter a scholarship and apologized for Britt's actions. All information and an extended version of Prince's story can be found in the Omaha World Herald.  
"
It absolutely has an impact if they say hurtful or controversial things on their pages."
— Fred Hoiberg
Britt expressed her regards on Twitter saying she was wrong for making light of an event like the Holocaust and plans to move forward and learn from her mistakes.  
Some may see these actions as unnecessary, but head Nebraska basketball coach Fred Hoiberg says otherwise. "During recruitment, we do look at their social media," Hoiberg said during an interview. "It absolutely has an impact if they say hurtful or controversial things on their pages."  
Acknowledging posts on social media affect athletes far past their high school and even collegiate career, professional players are also heavily affected by what they put online. In early November, after showing his support for an antisemitic movie, Kyrie Irving went from the starting guard for the Brooklyn Nets to watching games from his couch. The movie "Hebrews to Negroes" was produced in 2019, and not only blamed Jewish people for slavery, but also said they worshiped at the "Synagogue of Satan." After his tweets showing his support, the Nets suspended Irving until he expressed a public apology.   
Which he did, eight games later. "I am a Omnist and I meant no disrespect to anyone's religious beliefs. The antisemitic label that is being pushed on me is not justified and does not reflect the reality or truth I live in every day. I embrace and want to learn from all walks of life and religions," he said in a tweet. Although the words "I apologize" were never said, he was back in the next game's starting lineup.  
Not only did Irving lose over $3.2 million for not playing in eight games, but Nike also dropped Irving's contract with them and cancelled the release of Kyrie 8s.  
Your donation will support the student journalists of Omaha Central High School. Your contribution will allow us to purchase equipment and cover our annual website hosting costs.
About the Writer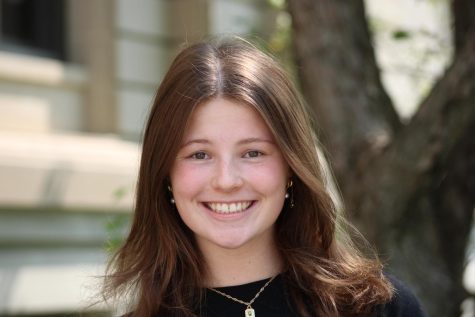 Isabel Hoiberg, Staff Writer
Hiiiiii! My name is Isabel Hoiberg (she/her), I'm a staff writer for the Register. I am a junior and this is my first year on the team. I was voted by...