Powerlifting state champion previews his season
Senior Dev Biswa knows a thing or two about breaking records. The undefeated senior power lifter holds state records in squat, bench, and deadlift and he isn't finished yet.   
"This is my last year and I want to break more records," Biswa said. "I am hoping for another undefeated season to end my high school career."   
Biswa started lifting his freshman year. He joined the powerlifting team because he wanted to have fun and meet people, but when the meets started, he wanted to win. "When I got on the platform I saw how important it was for me to win," Biswa said. "It made me realize that powerlifting wasn't just for fun, but could define me as a person."  
When Biswa first joined the team he benched 135 pounds and deadlifted 225 pounds. At the end of his freshman season he was benching 190 and deadlifting 285. He saw such a large jump in numbers because he learned proper form. "When I first joined the team I had no idea how to lift," Biswa said. "By the end of the season my form was better so I could lift heavier weight." Biswa's hard work paid off as he won a state title his freshman year.  
Sophomore year, Biswa was squatting 336 pounds, benching 226 pounds, and deadlifting 348 pounds almost 100 pounds more then the previous year. Sophomore season he won first place at state but came short of the state record.  After his sophomore season, Biswa made a gym in his basement to build towards breaking state records. "When I started training at home I got much better because I actually developed my form rather than just lifting heavy," Biswa said.  
As a junior Biswa had one goal, which was to break the state record. "I had been working for this goal since freshman year," Biswa said. "Since I was so close sophomore year I knew I could do it junior year."  At state that year Biswa squatted 425, benched 260, and deadlifted 463 breaking all three state records for the 123 pound weight class. With those numbers Biswa won state for a third time and won best male lifter.  
Now that his senior season has arrived, Biswa is hoping to squat 460 and bench 300 pounds. He moved up a weight class to 132, so he once again has the goal of breaking the state record in a new weight class. The record for squat is 385, bench is 260 and deadlift is 415, which are all numbers Biswa can beat. "I have hit those numbers before so I know I can do it," Biswa said. "It's now only a matter if I can do it at meets." 
As a senior, Biswa not only has to focus on breaking more records but also being a leader. Biswa is one of the few seniors that have lifted on the team since freshman year so he knows he has an important leadership role. "Now that I'm the oldest it's my turn to motivate everyone," Biswa said. "I have to cheer my teammates on like the seniors in the past did for me."  
Powerlifting coach, Dennis Baker described Biswa as a great leader and hard worker. "He is always willing to help out his teammates," Baker said. "He's a great leader and the strongest guy in the school." 
Throughout his powerlifting journey his biggest motivation was his family. "Seeing my parents proud of me gave me the motivation to be better and keep winning," Biswa said. "I like seeing them proud of me for all the hard work I put in." 
 Biswa was also an inspiration for his younger family members. His 13 year old brother, Prajjwal, goes to as many meets as he can to watch him lift. "When I see my brother lift it makes me want to lift for him and be just as strong," Prajjwal said.  
Biswa will compete in the first meet of the season on December 17th at Papillion South High School.  
"I'm going to give it my all this year," Biswa said. "I want this year to be the year I will not forget for the rest of my life." 
Your donation will support the student journalists of Omaha Central High School. Your contribution will allow us to purchase equipment and cover our annual website hosting costs.
About the Writer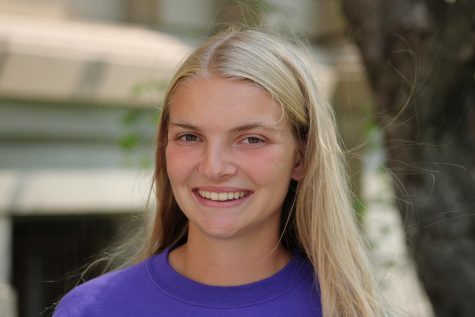 Ann Carlson, Staff Writer
My name is Ann Carlson (she/her), and I am a junior. This is my first year on staff. I was voted by the staff members, most likely to still believe in...