Legislature to debate trans student athletes
Nebraska's state legislature will vote on banning transgender children from playing sanctioned school sports. The bill—titled the Sports and Spaces Act—was introduced on Jan. 17 by Senator Kathleen Kauth and disallows students from entering bathrooms and locker rooms or playing on sports teams that disagree with their sex assigned at birth. The bill defines a "biological female" as "a person who was born with female anatomy with two X chromosomes," and a "biological male" as "a person who was born with male anatomy with X and Y chromosomes." 
 The proposed legislation creates three categories that scholastic sports must fall into: men, women, or coed/mixed, and disallows people from playing on a team if their biological sex doesn't match the category the team falls into, except for cisgender women who would want to play on a team that there "is no female team available for such sport." 
Johnny Redd, the communications manager of OutNebraska, an organization focused on advocacy on behalf of the LGBTQ+ community in the state, explained that bills like these are an attack on individual freedoms. "We believe these bills are dangerous, and that they create a lot of legal precedent for state sanctioned discrimination," they said.  
The bill, LB575, will also prevent students from entering bathrooms that don't match with their "biological sex." Redd explained that this bill is similar to other bills banning people from entering bathrooms, colloquially called "bathroom bills."  
"This bill does kind of lie in a sticky area, because a lot of bathroom bills have been defeated in the federal courts under Title Nine protections," they said.  
Senator Kathleen Kauth introduced the Sports in Spaces Act. She said that she was concerned about federal government overreach.  
"The Biden administration says schools have to have a very specific policy on gender inclusivity, and if they don't, then they will pull their free and reduced lunch money," she said.  
On May 5, 2022, the U.S. Department of Agriculture Food and Nutrition Service announced that it would interpret the prohibition on discrimination based on sex included in Title IX to include discrimination based on sexual orientation and gender identity. "This interpretation [will] help ensure its programs are open, accessible and help promote food and nutrition security, regardless of demographics," USDA stated. Any organizations that receive funds from the Food and Nutrition Service must investigate allegations of discrimination based on gender identity or sexual orientation, because by law, an organization engaging in Title IX discrimination cannot receive federal funds.
Kauth did not state that she knew of any cases in Nebraska where trans athletes had a "biological advantage" over cis athletes.  
"I'm starting to get more people coming and talking to me about the issue, concerns about it," Kauth said. "We want to put guidelines in place before it becomes a problem." When asked if she had spoken with any transgender athletes about LB575, Kauth said, "You are either biological male or biological female based on your chromosomes and based on your genitalia."
Kauth did not answer whether she had spoken with any transgender athletes regarding the bill.
The Nebraska School Activities Association (NSAA) created a Gender Identity Eligibility Committee in response to questions surrounding transgender athletes in 2016. The committee, before approving athletes, requires athletes to affirm and "exhibit consistent gender identity and expression," that is verified by a physician along with a group of the athlete's peers.  
Trans women must go through an extra layer of certification, involving submitting credible documentation that they've "either completed a minimum of one year of hormone treatment related to gender transition or undergone medically confirmed gender reassignment procedure, and, demonstrated to the Committee through a medical examination and testing and physiological testing that the transgender female student athlete does not possess physical or physiological advantages."  
Fewer than ten students have submitted an application to the NSAA Gender Identity Eligibility Committee since its creation, OutNebraska said. 
The NSAA did not respond to a request to comment.  
A study in the Journal of Sporting Cultures and Identities found that transgender women don't have biological or athletic advantages compared to cis athletes. The study, entitled "Race Times for Transgender Athletes" by Joanna Harper, tracked the performance of transgender women before and after testosterone suppression. The eight runners studied ran much slower post-testosterone suppression, "[S]low enough, in fact, that their age-graded performances were almost identical to their male AGs," according to the study. The study concluded that "[i]t will take many more years before the average sports enthusiast understands that transgender women who  have undergone testosterone suppression will not dominate women's sports." 
Redd said that this bill would have a negative effect on transgender youth attempting to assimilate into a school environment. "Sports are a really important part of, for a lot of people,  of their school experience. So I think the senators that have introduced this bill, maybe don't realize that trans kids just want to play sports, just like everybody else," they said.  
"My favorite thing about playing sports at Central is definitely the community," an anonymous transgender student athlete said. "Everybody's really supportive of each other." 
"LGBTQ youth who reported having at least one LGBTQ-affirming space had 35% reduced odds of reporting a suicide attempt in the past year," The Trevor Project, an organization dedicated to ending suicide among LGBTQ young people, stated.  The athlete emphasized the importance of affirming spaces for young trans people. 
"I definitely would have felt very dysphoric if I were not allowed to play girls' sports," the athlete said. "Having another obstacle in the way would've been a big setback and caused pretty severe mental health issues." 
Another trans athlete, whose name will also be withheld, talked about how sports are important to his life, and ultimately quit school-sanctioned sports because of the environment. "I ran cross country in seventh and eighth grade, and I swam in seventh grade. I'm a huge Cowboys fan," he said. He also said that he swam throughout elementary school. "I competed as the sex I was born with because I was still closeted at the time. [It brought up] a lot of discomfort and feeling like I didn't belong. I couldn't go on the boys' team, because I wasn't out, but it felt wrong to be on the girls team," he said.  
"I wish that [high school sports] were more to have fun or get exercise," he said.  
"There's this narrative of [transgender people] out there that we're a bunch of nasty things, and that's not who we are. We're your normal average students," one trans student athlete said. "All those narratives need to be shut down." 
Your donation will support the student journalists of Omaha Central High School. Your contribution will allow us to purchase equipment and cover our annual website hosting costs.
About the Writers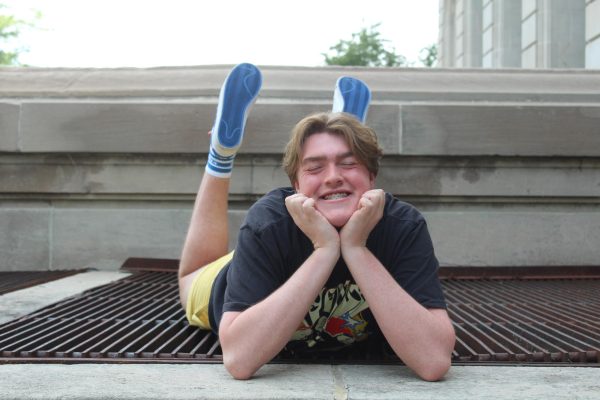 Charlie Yale, Co-Editor-in-Chief
Hi! My name is Charlie (he/him), and I'm a senior. This is my fourth (and final </3) year on staff, and I'm the Co-Editor-in-Chief. I was voted most...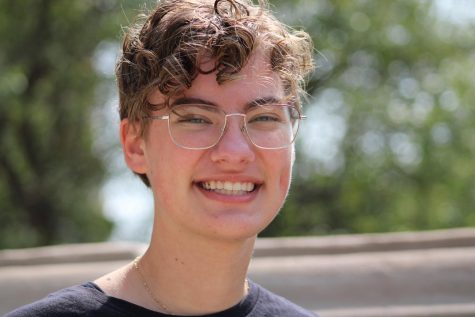 Noa Gilbert, News Editor
Hello, Register readers! I'm Noa Gilbert, (they/them) and your news editor! I'm a senior and this is my second full year on staff. In my free time, you...