Student section at girls' basketball game proves dissapointing
Before every basketball game, I try to show up with 15 minutes left of the girls' warmup. When I get there, the student section is empty, but I am always hopeful that more people will show up. If they do, it's only with few minutes left in the fourth quarter and it is never on purpose. They just want a good seat for the boys' game. Something no student at the girls' games have to worry about because there are so many open seating options.  
I never understand why, and neither does our girls team. The main excuse is that 5:30 p.m.,-when girls' games usually begin,- is too early for a game. But if the boys played at that time, instead of their usual 7:15 p.m., and the girls played after, would the excuse be the same?  
No, it would not, but it would create a new question. Would they stay to watch the girls' games?  
The sad truth is the excuses from the "fans" would just continue to grow. Something that contradicts the societal standards of equality held by Central students.  
"People think girls' games are boring, but it is because boys' games are more intense than girls. They can dunk, they are stronger and faster. Overall, they just have a lot more athleticism, I do not want to believe it because I think I can keep up with a boy, but it is the truth," junior guard Inia Jones said. 
When it comes to the skill of the actual games, girls and boys are the same. The amount of touch fouls, hitting an offensive player when you are on defense, called in a girls' game just distracts the spectators from that.  
On top of the physical differences between the girls' and the boys' games, there are differences in playing with or without a student section, something any athlete would know.  
"We are going to play regardless of who's watching, but when the student section is lit, it makes you want to go hard and be more intense. I want to give them a reason to come back," Jones said. 
Jones who averages 19.5 points, 5.4 rebounds, 5.5 assists, and 3.2 steals per game for the Eagles, most assuredly gives students a plethora of reasons to come and watch games. She's not only the leading scorer and playmaker in Class A basketball but also averages the fourth most steals.  
Not only do fans make the Eagles play better, but it can also affect the way the opposing team plays. We do not yell during free throws, or say things like "airball" or "butterfingers" for nothing – it's to distract the other team, and as we can see, it works. 
Last season, adding to the disappointing turnout in the state tournament, the Central girls also lost most of their starters. Fans no longer get to watch 6'6" Ital Lopuyo get a rebound over another team's 5'8" guard or wait for one of the Aniah/Aaniya's to bank a three from beyond the arc. 
"I feel like the students doubt us a lot because of all the seniors that left last year. Now, we are just pushed to the side for the boys, especially because of the transfers they gained filling in for the seniors they lost, which is why people still want to watch them play," junior shooting guard Taylor Gonzales said. 
Gonzales shoots 43% from beyond the arc and has made 31 three pointers on the year, putting her behind only three players in Class A three-pointers made, and also averages 11.3 points per game.  
"I think our games are really interesting, we have a good team. At one point we were ranked second in the state, which is higher than the boys have been ranked," Gonzales said. 
I hope more people start to show up to games at 5:30, not because I am alone in the student section, but to help push our girls' team to everyone's dream, the state tournament. Remember, if you would do it for a boys' game, why not do it for a girls' game? 
Your donation will support the student journalists of Omaha Central High School. Your contribution will allow us to purchase equipment and cover our annual website hosting costs.
About the Writer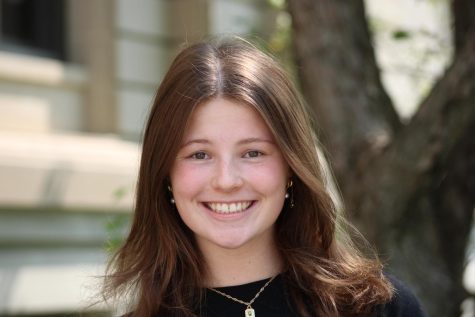 Isabel Hoiberg, Staff Writer
Hiiiiii! My name is Isabel Hoiberg (she/her), I'm a staff writer for the Register. I am a junior and this is my first year on the team. I was voted by...