Hobza breaks records
Paw Hobza is only in her second year of wrestling, and she is already dominating in the sport.  
Hobza has always been interested in martial arts and self-defense, but it wasn't until last year that she got the opportunity to participate in them in a school-sanctioned fashion. This was due to a lack of access to girls wrestling teams while she was in middle school, but also because Central only began offering girls wrestling as a sport last school year.  
She explained that in her culture, Karen, girls are discouraged from doing sports, but that only further encouraged her to pursue them. "It just makes me feel powerful," Hobza said. 
"[Hobza] is a member of the OG 7s, a group of 7 girls on the first ever girls wrestling team at Central who worked hard every day and paved the way for more girls to follow," said Corbin Foster, the head girls wrestling coach, in an email.  
As one of the girls team's original members, Hobza has helped build the program from the ground up.  
"It will be hard to describe Paw's impact on the Central Girls Wrestling Program," Foster said. "Paw has set a standard for how all future wrestlers should conduct themselves." 
Foster talked about Hobza's quick rise to stardom.  
"I have seen Paw improve since last year tremendously," Foster said. "She has gotten better every single day at practice, not only as a wrestler but I have seen her grow to be more mature and responsible as well."  
Hobza has been told by her coaches that she is the most improved wrestler in the program, although she doesn't believe it herself. In addition to two hour after school practices and hour and a half Saturday practices, Hobza attends an optional practice every Sunday to better herself as an athlete. She has also been given more mat time this year, and many more chances to compete.  
"If I get the opportunity to get on the mat, I'll be on the mat," Hobza said. 
Reflecting on this current season, Hobza said, "I've been winning. And losing. Well, my coach said: 'You don't lose, you learn.'"  
Despite any drawbacks, Hobza has already had a season so successful that she's broken a school record. "Paw is currently holding the school record for most takedowns in a season with 28 and will be on the record board for wins in a season, falls in a season and team points scored," Foster said. 
But in order to win a match, Hobza must prepare her mind and body first. Sometimes, she sprints back and forth across a hallway to get her adrenaline pumping before she competes. With the adrenaline rush, "it's not a shock" when she is thrust onto the mat where she immediately needs to give her all. "Right before my match, I would just keep my body warm, because I feel like if you step out onto the mat not ready to wrestle, you're just going to lose. You have to stay warm," Hobza said.  
Hobza's favorite part about wrestling is the bonds that the sport has afforded her. She's gotten incredibly close with her teammates and coaches throughout these past two years, and she appreciates the encouragement that they have given her. She also revels in breaking the gender roles of her culture by participating in a sport. Wrestling is very empowering for her. "I'm a girl. I'm tough," she said. "I can wrestle, and nobody can tell me what I can and can't do, sports-wise."  
Her passion and dedication to the sport of wrestling has led to her commitment to the University of Sioux Falls and their newly established wrestling program, where she will make the switch from folkstyle wrestling (the style that Central uses) to freestyle wrestling. As one of the founding members of Central's girls wrestling program, Hobza is now going on to become a founding member of the University of Sioux Falls's wrestling program.  
"I'm going to be an OG again!" she said. 
"I never knew I would come to this point in my life, so it's very exciting," Hobza said.  
Her ability to adapt, learn, and persevere prove that she is a force to be reckoned with, and a bright future—one with many mats and singlets—lies ahead of her. 
Your donation will support the student journalists of Omaha Central High School. Your contribution will allow us to purchase equipment and cover our annual website hosting costs.
About the Writer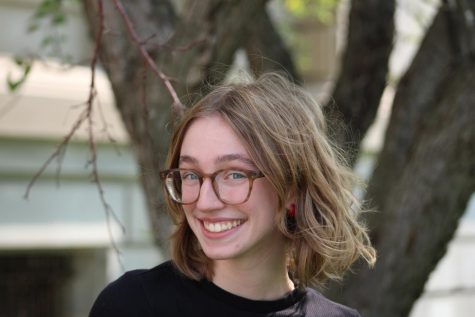 Hadley Forsen-Yepes, Staff Writer
Hey, I'm Hadley and I use she/her pronouns! I'm a junior and this is my first year writing on the Register. Apparently, I am most likely on staff to refer...