Q and A with Principal Dionne Kirksey
Staff writer Ann Carlson talks with Ms. Kirksey about students, discipline and music. The following interview has been edited for clarity and length.  
Q:  What is your favorite thing to do outside of work?  
A: When I go home I like to watch HGTV. It's fun to see what the professionals do and pretend like I can do it as well. When I need a fun show to watch I turn on "Kids Baking Championship" or "S.W.A.T." One of my favorite things to do is pretend like I'm a judge on "The Voice." I always can predict who will win and how people will do.  
Q: What's your favorite music to listen to?  
A: My favorite band is Earth, Wind and Fire. I love going to live music and shows. I recently saw "Fences" and I'm going to see "Dream Girls" next. When I see live shows like this it makes me excited to see what shows Central will perform. I was tearing up watching our "Wizard of Oz" production and I can't wait to see what the students  do with the Roadshow.  
Q: How long have you been at Central? 
A: I started working at Central in 2001 with the title of assistant principal. I would organize dances, clubs and do teacher evaluations.  
Q: Where did you go to school?  
A: For elementary school I went to Wakonda, Nathan Hale for middle school, then graduated high school from Northwest. I then went to Coffeyville Community College in Kansas, which is where I was born. I got my Associate degree there in 1987. After that, I went to Emporia State University in Kansas, where I received my bachelor's degree. I then went on to University of Nebraska at Omaha, where I got my master's in secondary education and administration.  In 2009 I went back to school while still working at Central and got my degree in secondary counseling at Creighton.  
Q: What new things have you implemented at Central to help with behavior issues?  
A: We started the school year with Operation Get to Class to make sure students were making it to class on time and not wandering the halls. We also implemented the Boys Town rules so teachers and students would know how to talk to each other. This is especially important after a year of masks and communicating through a computer screen.  
Q: What is the main difference between this year and last year?  
A: Last year I came to work, but it was a struggle because of the challenges due to the pandemic. This year I look forward to going to work. There is no place I would rather be than Central. Last year we lost a connection and it was difficult to communicate in person since we were so used to online school. Now this year we are here and trying to communicate face to face and it is much better.  
Q: What's your favorite part of being principal? 
A: I love building a connection with the students and getting to know them. I like to see what activities the students do, everything from football games to the musical. As a principal, I don't want students to fear me. I want them to understand me and to build relationships with the students. I'm excited to see what the next years bring. 
Q: What advice would you give students if they are struggling to do well in school?  
A:  Something I have lived by for my entire life is a saying my grandfather used to tell my brother and me.  He would always say your brain is as good as anybody else's. When students are struggling, I like to remind them of this. My grandfather's saying has stuck with me my entire life and it's my motto as a principal.  
Your donation will support the student journalists of Omaha Central High School. Your contribution will allow us to purchase equipment and cover our annual website hosting costs.
About the Contributor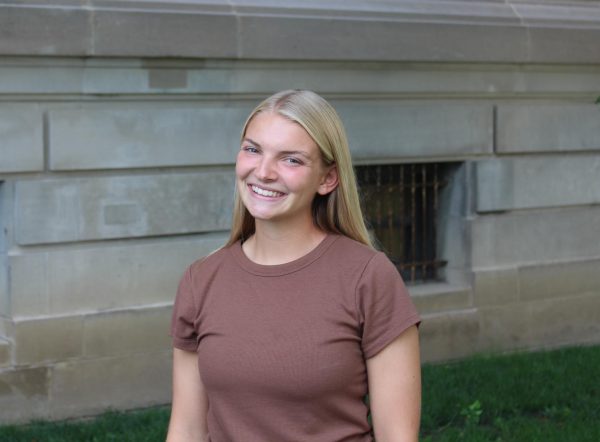 Ann Carlson, Sports Editor
My name is Ann Carlson and I am a senior. This is my second year on staff and I am the sports editor. I was voted by the staff members, most likely to...