Afghan immigrants adjust to life at Central
Few can understand the stress associated with moving across the world to escape a dangerous environment, but that is the reality for Central students who fled Afghanistan. 
"[Prior to moving] I didn't know much about America, I just knew about America from watching T.V.," said sophomore Asia Mohammadi. "I knew it was a good place to receive an education."  
Moving to America in search of better financial, social and educational opportunities is something that takes place quite often within the American immigration system. But, moving to America comes with the difficulties of leaving a life behind. 
"At first I was sad," Mohammadi said. "I could not see my friends anymore, [and] the school was very different [from Afghan schools]. The first day was not very good." 
The difficulties only begin there, however. Often families are split, being forced to leave behind relatives. 
"With me came my mother, my father and some of my sisters. One of my sisters had to stay in my country," said junior Tamana Hussain Khil. "I miss my family, my country and my friends." 
This splitting of the family is the case for many immigrants into America. 
"My parents came here [to America], but my brother and sister had to stay in Afghanistan," said Abdul Qadir Rahmani. "Leaving my family and leaving my country is hard." 
For the students the adjustments have been as difficult as one could imagine, but they all credit the staff at Central with making the transition easier. 
"The teachers are kind, and when I ask questions, they listen to me and help me," Rahmani said. "(Molly) Davies [in particular] explains everything to me and… she's just helpful." 
The teachers of the EL Department have to take the role of not just educators, but also guides through this new phase of these children's lives. 
"The teachers here have been like a mom to me," Hussein said. "[Ms. Davies] always helps me by understanding and listening; she's just everything." 
The resources in the classroom, and in some cases the opportunity to even step foot inside a classroom, has been one of the starkest differences for the students. 
"In my country we do not have a lot of technology, so the technology here is nice," Hussein said. 
This opportunity has inspired these EL students to strive for large goals academically. 
"If I want to [in America] I can study, and go to college," Rahmani said. "I really want to be a doctor and do science [after high school]." 
A major obstacle to overcome for these students is mastering the English language in a country where a fraction of a percent of the population can speak their native languages. After more than a year at Central they all cite their improvements with English as their key to success in the country. 
"My writing and speaking have improved the most [since moving to America]," Mohammadi said, "because I can now share information and talk with people. I also understand when people talk to me." 
Your donation will support the student journalists of Omaha Central High School. Your contribution will allow us to purchase equipment and cover our annual website hosting costs.
About the Writer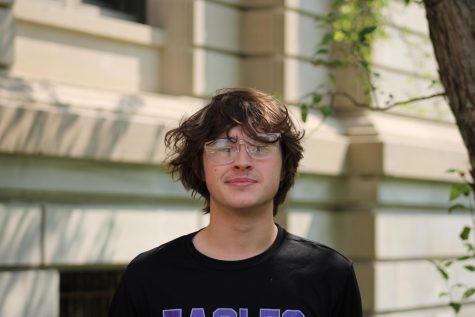 Conor Harley, Staff Writer
I'm a junior and when I'm not writing for the Register I am watching my bulls and hanging with friends.