The future of Nebraska journalism
As legacy newspapers decline across the state, Nebraskans face a changing news ecosystem
It was a cold, dreary morning in February when Randy Essex got the call. "When I became the editor of the World-Herald, I thought, 'The first newsroom I worked at professionally will be the last newsroom I work in professionally,' thinking I was going to retire," said Essex, who began his journalistic career with an internship at the Omaha World-Herald in 1979, before leaving Nebraska to work at newspapers across the country. "Moving back to my home state was an opportunity to give back, help young journalists, and be a voice in policy in Nebraska."
But, as he was preparing to set out for work on Feb. 16, 2022, Essex was laid off as Executive Editor by Lee Enterprises, the newspaper chain that owns the World-Herald, effective immediately. He was not given the opportunity to write a farewell column or to say goodbye to the staff he had worked with for the past two years.
Essex was only one of many World-Herald journalists laid off by Lee, which is infamous for aggressive cost-cutting at its papers. When Berkshire Hathaway sold the newspaper to Lee in 2020, it had a newsroom of nearly 80 full-time journalists. After Lee's most recent round of layoffs and buyouts, there are around 40 full-time journalists remaining at the World-Herald.
The decreasing size of the World-Herald is part of a larger trend of newspapers downsizing across the state and the country as their advertising revenue diminishes. The 2020 U.S. Census revealed that half as many Nebraskans are working as journalists compared to the number that worked in the profession in 2000. The rapid decline of Nebraska's legacy publications has underscored the need for Nebraska's news ecosystem to find new methods of funding journalism, and for new, independent newsrooms to fill the gaps in news coverage.
In 2021, Matthew Hansen and Matt Wynn, two former reporters at the World-Herald, co-founded the Nebraska Journalism Trust, a nonprofit organization dedicated to expanding nonprofit journalism in Nebraska. "It's uniquely suited to Nebraska," said Wynn, who serves as the Trust's Executive Director. "This is a wildly philanthropic town. Ironically, because of Warren Buffet, he made a lot of people wealthy and those people have given back to their community in a very real way. Nonprofit journalism is just a way to take advantage of that."
The venture is funded through both large and small donations by corporations, charitable foundations, and individuals, all of whom are published on its website as part of its commitment to financial transparency. "For a long time, the way that newspapers existed was that advertisers funded the journalism," Hansen said, "which doesn't make a ton of sense, it was more of a marriage of convenience in a time and a place. The question we need to ask ourselves is, 'Is that how newspapers should be funded?'"
"
We view journalism as a public good, not as a way to make money.
— Matt Wynn
The Nebraska Journalism Trust launched the Flatwater Free Press, Nebraska's first independent, nonprofit newsroom, to focus on in-depth investigative and feature stories. The news outlet is a member of the Institute for Nonprofit News, a national nonprofit news network founded in the wake of the 2008 financial crisis to spread nonprofit journalism. When the network was founded in April 2009, it comprised 27 nonprofit newsrooms. In April 2021, the Flatwater Free Press became the 335th nonprofit newsroom to join the organization.
"We get to reimagine the news the way it should be done," Wynn said. "We don't have shareholders. We view journalism as a public good, not as a way to make money."
In an early sign of growth for nonprofit journalism in Nebraska, another nonprofit newsroom, the Nebraska Examiner, was launched in January 2022. "I had been very concerned when I saw how traditional news outlets are struggling," said Cate Folsom, Editor-in-Chief of the Examiner. "Whether it's newspapers, television, or radio, the advertising support isn't what it used to be. It's getting harder and harder to produce news using that model."
Folsom worked at the World-Herald for over 40 years before coming out of retirement to lead the Examiner.
The Nebraska Examiner was the 26th news outlet to join States Newsroom, a national nonprofit news organization specializing in political coverage of state governments, with the goal of establishing an affiliate newsroom in every U.S. state. The outlet is funded both by States Newsroom and local donors, but unlike other nonprofit news outlets, it does not run ads or accept corporate donations or underwriting.
"As newsrooms shrink, we have fewer eyes on government," Folsom said. "That means we don't know as much about how government is spending our money or what kind of policies they are enacting. We think it's important for democracy that we keep shining a light on that."
The decline in newspapers' advertising revenue was caused in large part by the explosive growth of Facebook and Google, who successfully monetized the attention of internet users through hyper-targeted advertisements. "By 2017, Google and Facebook were taking more than $60 billion a year in revenue that had gone to newspapers." Said Essex, "No industry can survive that kind of disruption."
However, one local publication figured out how to capitalize on Facebook and Google's dominance. "Google and Facebook saved us," said John Heaston, editor and publisher of the Reader, an alternative news monthly he co-founded in 1994. "Most media say that Facebook and Google destroyed them by taking all of their ad dollars."
The Reader was funded primarily through print advertisements until the 2008 financial crisis when most of the Reader's advertisers were unwilling to buy ads. "We needed to meet our payroll, so we asked them if there was anything we could help them with," Heaston said. "And universally, they said, 'We're looking for somebody to help us with this Facebook and Google thing."' So, Heaston shifted his company's business model from advertising to providing digital marketing services to assist Omaha businesses in growing their online presence. "We're in a very strong position because we don't have to rely on donations or memberships."
Not content with merely reinventing the revenue source of his publication, Heaston is now working with other local media to reinvent journalism for the digital age. "Once upon a time, you needed an industrial printing press or a broadcast license to reach an audience," Heaston said. "The internet blows that up. If we are not the information gatekeepers, then how do we become referees and moderators when everybody has a voice and a video camera in their pocket?
"
If we are not the information gatekeepers, then how do we become referees and moderators when everybody has a voice and a video camera in their pocket?
— John Heaston
In 2022, Heaston and other journalists at the Reader formed the Omaha Institute for Nonprofit Journalism (OINJ), a nonprofit that seeks philanthropic support for local media in the Omaha metro area. The organization's premier project is Omaha Documenters, a citizen journalism initiative created by the Chicago-based civic journalism lab City Bureau. Omaha Documenters recruits and trains a network of community members to document every public meeting in Omaha through detailed note-taking and live-tweeting.
"It's really about how we get information out to people so they are better informed about how decision-makers impact their lives," said Abbie Kretz, Executive Director of OINJ. "It also changes journalism which was typically white men in these beautiful towers reporting on things. We want to transform that into something where people can tell their own stories."
Kretz emphasized collaboration between different news organizations as key to OINJ's mission. "It's a collective approach to media and journalism," she said. "We work to support local media and journalism innovation in the Omaha metro area."
Redressing the lack of news coverage of historically excluded groups has been a priority for many of Nebraska's nonprofit and alternative news outlets.
At its launch, the Flatwater Free Press pledged that a quarter of its stories would focus on people of color or the state's Indigenous communities. "I think we needed to say something out loud because otherwise, we wouldn't do it," Wynn said. "So many newsrooms are for wealthy people, for white people, and we wanted to, front and center, say out loud, 'That's not what we're trying to do here.'"
Minority-owned news organizations in Nebraska have long struggled with a lack of funding, preventing them from covering issues facing Nebraskans of color. When minority communities are covered by traditional news outlets, their coverage is frequently criticized as containing bias.
"We were just tired of how they tried to portray the north side as this super, uber-violent place where you should never go to or live," said Paul B. Allen, CEO and founder of 1st Sky Omaha, an alternative news organization that focuses the Black community of North Omaha. "The place where I was living in North Omaha, the whole street was owned by elderly Black folks who kept their lawns meticulous. It just wasn't like how they were describing it in the World-Herald and Channel 7."
"
We were just tired of how they tried to portray the north side as this super, uber-violent place where you should never go to or live.
— Paul B. Allen
Allen, who previously ran Mind & Soul, a low-wattage community radio station supported by the Malcolm X Memorial Foundation, co-hosts the organization's feature show "1st Sky Omaha In the Morning" with Mark McGaugh three days a week.
"We're basically holding two-hour round table sessions with the community three days a week," explained Allen. "This is new in journalism as far as we are concerned, that we spend so much time talking to people about what they think about what's in the news and what they really want to hear about."
1st Sky Omaha collaborates with other independent news outlets including the Reader, the Flatwater Free Press and the Omaha Star, bringing them story ideas based on the issues facing their community. The company is funded through a smorgasbord of revenue sources, including donations, paid memberships, advertising, grant money from the Omaha Institute of Nonprofit Journalism and the Weitz Foundation, and even digital services, specifically live-streaming. But, the income received from all those sources is still insufficient to cover their expenses, "Since none of that really pays for what we do, it's also really out of our pockets," Allen said.
Allen is hoping to receive increased funding to expand 1st Sky Omaha, as they are creating a news division and training journalists of color to cover Omaha's minority neighborhoods.
Allen also said that 1st Sky is in discussions to build a news network alongside other Black media outlets in the Omaha metro area. "We believe in collaboration and not competition," he said. "There's so much room for Black journalism in our city, that even if we all got together right now we would still need to build out more."
In addition to the lack of coverage of Black Nebraskans, the shortage of local Spanish-language journalism has been a persistent issue for the state's growing Latino population.
"It is essential to continue being a bridge of communication that understands the culture of the Latino community and understands how the minority local communities are built, their challenges, and opportunities," said Abril Garcia, owner, publisher, and founder of the Mundo Latino Network, the most widely circulated Latino-owned Spanish-language publication in Nebraska. "It is not just about presenting content in Spanish; it's about featuring our community on our different platforms, so our readers feel they are being represented."
Mundo Latino, which has published weekly printed editions in addition to its website since 1999, has struggled to survive over the past five years. "I would love to see more support," Garcia said. "Information is the key to the success of any community, but we can't do it if we don't get support from advertisers or agencies."
With the challenges facing Nebraska's daily newspapers, Nebraskans face an evolving news ecosystem, one containing as much promise as uncertainty.
"The problem for Nebraska journalism," said Essex, "and the problem for any state with a significant rural population is that so many of the small, local papers have closed or have staffs that are so small they do not do meaningful watchdog journalism. Local journalism watching small-town government is really lost, and I do not know what the solution is for that."
Despite being a firsthand witness to the World-Herald's decline, Essex doesn't believe Nebraska's legacy publications will cease to exist entirely. "I think that these brands like the World-Herald brand will continue to exist in some fashion because there's some value and equity in them," he said. "Frankly, if I were king, I would rip off the band-aid, stop printing every day, and do a strictly local news website and a Sunday paper that has your very best reporting every week."
"We need to figure a way to replace what's been lost and acknowledge that we need to do things differently," said Hansen of the Flatwater Free Press. "It wasn't like journalism in 1985 was perfect. The disaggregation of this thing that we know as the newspaper needs to happen and it gets us a lot closer to the way news should work."
"There will be more, even smaller news outlets that find a niche and a good working business," predicted Heaston, "Together, they'll form an entire ecosystem and with an engaged audience and citizenry, the storytelling potential is unlimited."
Your donation will support the student journalists of Omaha Central High School. Your contribution will allow us to purchase equipment and cover our annual website hosting costs.
About the Writer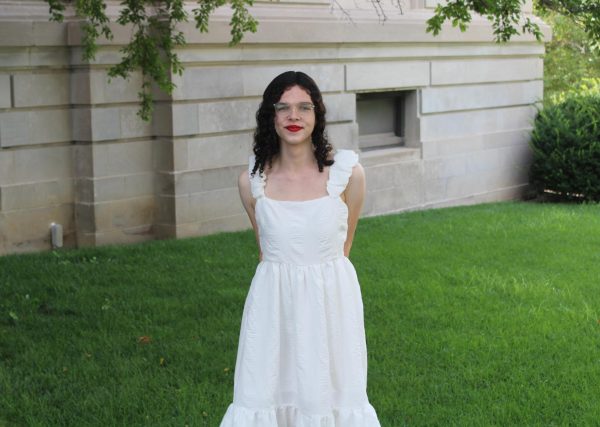 Jane McGill, Executive Editor
Hello Register readers! I am Jane McGill, endlessly inquisitive senior and Executive Editor of The Register. I oversee all aspects of The Register's...