Central students organize walkout for Transgender Day of Visibility in wake of anti-trans Nebraska legislation
Omaha Central High School students organized a walkout on Trans Day of Visibility March 31. The event was developed by Noa Gilbert and Charlie Yale in response to Nebraska legislative bills LB574 and LB575.
LB574 would ban gender-affirming care for youth under the age of 19, and LB575 is a bill focused on education that would ban trans youth from participating on the sports teams that align with their gender identity, and bans them from using the locker rooms and facilities that align with their gender identity.
The walkout also happened in conjunction with events organized all over the country by Queer Youth Assemble for Transgender Day of Visibility. The Day of Visibility is an event that started in 2009 to recognize transgender people and raise awareness for their struggles.
Gilbert was present at the first round hearing in Lincoln March 23 in which LB574 was advanced forward to a second round of votes. After meeting with Yale, they had decided that the students at Central needed to have their voice heard.
"I was really devastated and heartbroken at how much pain and hurt these bills cause," Gilbert said.
The two organizers believe that bills such as LB574 and LB575 are ones that are pushing young people out of Nebraska. They created the walkout to send a message to transgender students in Omaha that they are loved and seen, with a community that cares and will fight for them. Gilbert said another important point of the walkout was to have Nebraska's representatives realize that the young voices of the state matter.
"A really strong message we can send is that we are young people, we are opposed to this bill, and we don't want to stay in Nebraska when bills like this come forth," they said.
The walkout was arranged to take place on Dodge Street. Speakers were organized for the event, and included students Jane McGill, Aiden Whalen, Jade Watson, Grayson Shuler-Morgan and Harley Lawton. The Nebraska Executive Director of Planned Parenthood North Central States Andi Curry Grubb also spoke.
Whalen, who was contacted by Gilbert and Yale through Central's Student Progressives, performed poetry that portrayed the struggles that someone who is young and transitioning will experience. Whalen believes the bills cast a wide net on Central High School's student body who identify as trans and are looking to seek treatment.
Whalen himself receives hormone treatment and is seeking top surgery, a gender-affirming procedure for female-to-male transgender people to provide physical traits that are more comfortable to their male identity and functioning. The passing of LB574 would make doing both nearly impossible.
"I would no longer be able to easily access my healthcare, which would be detrimental to my mental health and physical health. I would not be as happy as I am now," Whalen said.
Central's walkout led to other schools in the area arranging their own as well. Students at Westside, Ralston, Lincoln Southeast, Burke, North and Northwest also walked out. Students from these schools reached out to Gilbert and Yale, and the two provided them with resources and let them know how Central would be organizing and reaching out to members of the media.
"It's really awesome that when we organized this, we kicked off a trend across the state of students showing their opposition to these hateful and harmful bills," Gilbert said.
Your donation will support the student journalists of Omaha Central High School. Your contribution will allow us to purchase equipment and cover our annual website hosting costs.
About the Contributor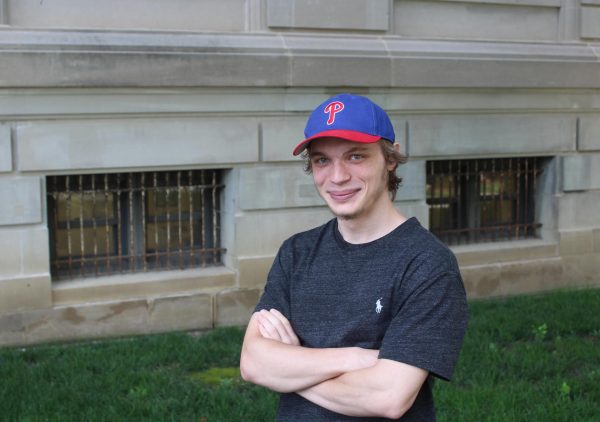 Haylon Sipe, Staff Writer
Hello, my name is Haylon Sipe (he/him), it's my first year on the Register staff and I am a Senior. I was declared most likely to lose my wallet at a...