Ethics Bowl team wins state championship
A large part of the International Baccalaureate Theory of Knowledge (TOK) course during students' junior year is the introduction of ethics and how that affects knowledge and the acquisition of knowledge. In an attempt to dive deeper into the topic of ethics, TOK teacher Shane Thomas coaches Ethics Bowl, a series of competitions where teams of students discuss various cases and the ethical dilemmas they present. This year, Central had three teams, each consisting of IB juniors and seniors. On January 28th, all three teams competed at the University of Nebraska at Omaha against other schools across the state. Three weeks later, on February 15th, the Eagle team, which consisted of seniors Sophie Cullum, Noa Gilbert, and Rayya Haider, and juniors Hadley Forsen-Yepes and Aiden Whalen, competed against Iowa's state champion. 
Senior Noa Gilbert was first drawn to Ethics Bowl as a junior last year. "Ethics Bowl was an opportunity to really dive into and discuss complicated ethical scenarios with a group of people who are also really into thinking really deeply about certain difficult topics," Gilbert said. Junior Aiden Whalen joined Ethics Bowl because he enjoyed the ethical questions and dilemmas Mr. Thomas presented to his TOK class. 
This year, Central had three teams competing: Silver, White and Eagle. The teams started preparing for competitions in January. "I know that doesn't seem like a ton of time," Whalen said. "But we used the time we had wisely, and it really did pay off!"  
On January 28th, all three teams traveled to UNO for the state/regional competition to go up against other high schools in Nebraska. Each competition round pitted two teams from different high schools against each other. The first team had five minutes to present their case for their assigned ethical dilemma. Then, the opposing team had three minutes to present their rebuttal. The first team then had three minutes to respond to the rebuttal and finally, there was a ten-minute Q&A session. Out of the three teams from Central, the Eagle team moved on to the final round against Millard North High School. "We won that which was really exciting. We got ranked above Millard North for a number of points," Gilbert said. "So after that, we qualify for the super regional competition, which is where individual states play each other." 
Three weeks after the state competition, the Eagle team faced Iowa in the super regional competition. "We faced the Iowa state champion…and lost in a close split judges' decision." Thomas said. Gilbert was also disappointed in the outcome, "But we had a difficult case to argue," they explained.  
Overall, Ethics Bowl was a very rewarding experience for Whalen and Gilbert. "It was really nerve-wracking for me, as I felt like I didn't know a lot of vocabulary or ethical outlooks, but I am really proud of myself and my contributions," Whalen said about his experience. Mr. Thomas also was very proud of his students' accomplishments. "This has been the most impressive group of students I've had for the Ethics Bowl competition," he explained. "It was such a privilege to work with them as their coach and watch their collaboration and intelligence shine." Whalen plans on continuing with Ethics Bowl and Gilbert is excited to see the direction the program will take next year. 
Your donation will support the student journalists of Omaha Central High School. Your contribution will allow us to purchase equipment and cover our annual website hosting costs.
About the Contributor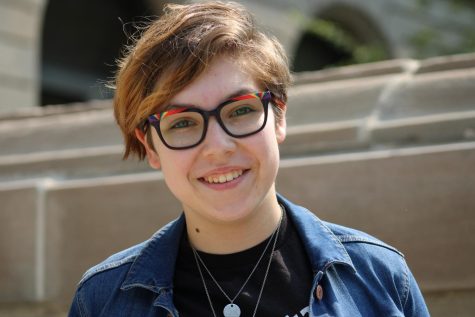 E Dona-Munoz, Staff Writer
HI, my name is E Dona-Munoz, and my pronouns are they/them/theirs. I am a senior and this is my first year writing for the Register! I have many old people's...