Planned Parenthood Teen Council reimagines sex education
One Monday evening at Planned Parenthood Northwest Health Center, the eight high school students who make up Teen Council gathered. Information about HIV/AIDS transmission decorated the whiteboard, and large, colorful plushies of uteruses and ovaries sat neatly on a table.  
Teen Council starts its meetings with laughter and catching up about its members weeks before beginning their work: empowering teens to become peer sex educators and disperse accurate and inclusive information in their communities. 
Junior Aiden Whalen said Teen Council allows him to be an educator and a resource for his peers. "I'm judgement free, I'm a safe place, and it feels more natural learning in a face-to-face interaction," Whalen said.  
This is Whalen's second year as a Teen Council member. He first applied in May 2021. "I could see kind of where our world is leading," he said, "and I was like, I want to be able to do something." 
Teen Council members are advocates for sex education and reproductive health. Whalen has testified at school board meetings in support of updated curriculum, and Teen Council went to Lincoln on March 8 for Planned Parenthood's annual Lobby Day. There, they spoke to senators and lobbied against LB626, a proposed 6-week abortion ban. 
Teen Council differs significantly from most mainstream sex education because, instead of adults educating teens, Teen Council empowers young people to educate each other. Whalen and junior Harley Lawton said that Teen Council helps them learn and educate about topics that they didn't learn about at school. 
"It's stuff like consent and boundaries, how to say no. How to do all this stuff that just school doesn't talk about," Lawton said.  
"We don't have the most comprehensive sex ed," Whalen said. "It's an unfortunate stigma." 
Whalen said peer education helps young people access accurate information. "It's more comfortable for me to go to [a peer] and say like, tell me about condoms or whatever, then going up to like my parent or an adult and saying like, 'Hey, how do I do this?" Whalen said. 
Each week, Teen Council members learn about sexual health, healthy relationships, and many other topics. Then, they bring the information they learn to their communities. "We connect things to our day-to-day life, and then learn how to talk about those things in a way that is inclusive," Whalen said. "We educate everyone around us," added Lawton. 
Planned Parenthood education intern Henry Nelson is one of the facilitators of Teen Council. He begins meetings by leading warm-ups, energizers, and art projects that allow Teen Council members to connect with each other. Then, they get to work. This year, Teen Council members are creating a collaborative art gallery, where members can share educational artwork and zines. Lawton plans to create art representing the diversity of bodies, and Whalen is making a penis-shaped incense holder. 
"I love Teen Council," Lawton said. They appreciate the educational value of Teen Council as well as the "delicious" free food. "You learn more than you think you ever will," they said.  
"It is such a welcoming space for people to just be themselves and they're very accepting for whatever identities you bring to the table," Whalen said.  
Applications for Teen Council's 2023-2024 cohort are currently open, and interested high school students can find more information about the program at linktr.ee/omahateencouncil. 
Both Lawton and Whalen encourage others to apply to Teen Council. "The amount of information and resources I have is honestly really cool," Whalen said. "It's just it's so important to me to be able to give this information to teens.
Your donation will support the student journalists of Omaha Central High School. Your contribution will allow us to purchase equipment and cover our annual website hosting costs.
About the Contributor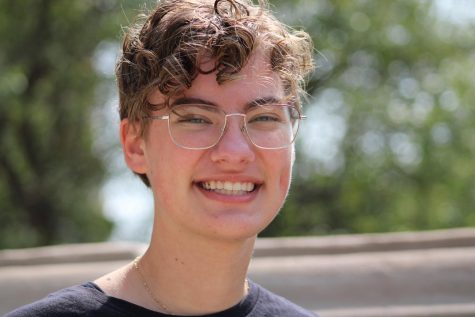 Noa Gilbert, News Editor
Hello, Register readers! I'm Noa Gilbert, (they/them) and your news editor! I'm a senior and this is my second full year on staff. In my free time, you...