Social workers provide support as apartment closure displaces students
Omaha Public Schools estimates that approximately 200 students became unhoused over the district's winter recess.  
"We had students and families impacted by closure of apartment complexes in our community, fires and other cold-related damage to homes," Chief Communications Officer Jeremy Maskel said. 
"Any time a student is displaced, of course, is a bad year. It's been a couple of years since the last time there was a complex that was uprooted due to the city's actions in order to try to protect the inhabitants," Central Social Worker Dawnna Hill said. "To be honest, that's not something that I always have exposure to that information. We only really know what we're made aware of." 
The complex was the Legacy Crossing apartment buildings, off 105th and Fort Streets. KMTV reported that an estimated 165 households lived at the complex. After the owner, a Colorado resident, put the complex up for sale, a purchaser backed out of the deal because of the deterioration present on the property. The property was foreclosed on December 19 due to severe code violations.  
Mayor Jean Stothert explained that conditions included "no heat, collapsed ceilings, cockroach infestations, mold and raw sewage, among others." 
The public school system is able to provide extra protection to students through specific federal and state legislation.  
"One of the protections that we offer students and families impacted by homelessness is the McKinney-Vento Homeless Education Act. It affords, federally, some protections for students and families to make sure they're not further impacted in certain ways," Hill said.  
The McKinney-Vento Homeless Assistance Act was enacted in 1987 as the first significant federal legislation in response to homelessness. The bill is named for Stewart B. McKinney, the chief sponsor of the bill, and Bruce Vento, a leading supporter of re-authorization. It ensures educational rights for unhoused children by validating different living arrangements, thereby qualifying unhoused youths as eligible for services under the act. 
"What that does is it allows them to continue to stay at their school of enrollment, regardless of what their external circumstances are, or it also allows them to enroll in a school, even if they don't have their proper paperwork that typically is expected for enrolling," Hill said. "They help to coordinate transportation, so that that's not a barrier for attending school. Those are some elements that they can work through with that particular funding."  
As soon as an OPS school learns of a situation where a family has lost their permanent dwelling, has become "doubled up" with families or a student is unaccompanied, the school offers the family the opportunity to work with personnel at the Teacher Administrative Center, OPS's headquarters, to enroll them in the McKinney-Vento program. 
"As a school social worker, I always meet students and families where they are and what they want me to help them with," Hill said. "I lean in and wait for them to ask for supports. We are able to connect them to a variety of community resources. There are a lot of access points that students and families can go to in order to get reconnected with housing, whether it's the shelter short-term or if it's connecting to longer term options within the network." 
Hill also says that social workers help to address food, water, clothing and supplies needs.  
Central sponsors its own necessities closet, called "The Nest," to help combat these needs internally, which can be found in the basement. It is open to all Central students, and it offers a range of supplies from clothing to cold weather gear and other material needs and supports. Hill says that she directs a lot of the unhoused students in need of socks, underwear, gloves and winter coats to The Nest.  
"Sometimes these circumstances can happen really fast, and they aren't able to get their belongings, or they lose their belongings," Hill said. "We're always assessing for 'Where are you at, what do you have, what do you need and how can I help you?'" 
The National Center for Education Statistics reported that over 1.2 million students were homeless in 2015. In Nebraska alone, the number was over 3,000. Iowa had nearly 7,000 unhoused or displaced students. The National Center for Homeless Education provided updated statistics in 2021, showing a frightening increase: 1.5 million students are homeless or displaced in the US. Nebraska accounts for almost 4,000 and Iowa accounts for now over 7,000 homeless students.   
"The biggest thing is to realize that even without these big, publicized events, these things are happening every day. Continuing to spread appropriate knowledge and compassion and being attentive to what's happening in our community [is important]," Hill said. "We welcome new students to our building every year that are impacted by [homelessness]. It's right in front of us, even when it's not on the news."  
Hill said that to address homelessness in the community is to address societal issues and explained that compassion is essential when advocating for change.  
"The more that we can normalize how housing instability has impacted folks and that there's a system out there that doesn't serve all of our community members," she said, "we can advocate for change in making sure that we have better options for safe, affordable, permanent housing, addressing funding needs when folks have them."  
For many Americans, housing discrimination, even once a dwelling is secured, is a slippery slope. Hill talked about a client whose lease was denied because they were not able to provide proof of employment.  
"For people that experience frequent turnover, they pay a lot of extra fees and are treated in a way that is not the normal experience as a tenant. I had a younger person who wasn't able to provide proof of employment when a lease was set to be renewed and they were evicted in five days," Hill said. "I have never been asked for proof of employment when renewing a lease. There are places for us to really examine the system and see where we can do better, and try to advocate and push on that, and share their voices, because it's not okay." 
For Hill, the solution involves putting pressure on landlords to do better as a society. In April of 2022, The Reader reported that "a small minority of landlords and management companies — less than one percent of all code violators — make up 13% of all code violations" in and around Omaha.  
"Another thing we collectively can do that would immediately and positively impact this issue of mobility and homelessness is hold landlords accountable for the conditions of their homes. There should be additional safeguards in place for ensuring quality and appropriate dwellings to meet basic human needs," Hill said. "Otherwise, this ends up being a vicious cycle of intentional or consequential exploitation, further impacting stabilization efforts for young people and their families." 
In the case that a landlord breaks building codes, one of Omaha's 13 building inspectors can fine them $125 per inspection and between 30 and 120 days to fix the violation. Extensions are available, but if the violation is immediately dangerous, the time can be shortened. If they do not fix the violation, the landlords can face up to a $500 fine and/or six months in prison.  
Hill says that there is only so much a social worker can do in a school.
"The thing that breaks my heart the most is that, I know about the ones I know about," Hill said. "I know, in this building, there's probably at least double that, that we don't know about. There's a lot of work to be done." 
Your donation will support the student journalists of Omaha Central High School. Your contribution will allow us to purchase equipment and cover our annual website hosting costs.
About the Writer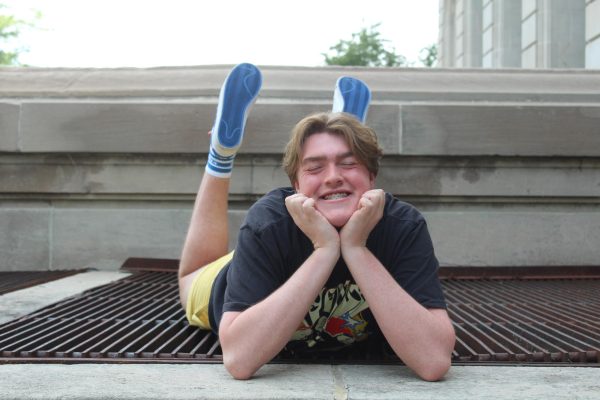 Charlie Yale, Co-Editor-in-Chief
Hi! My name is Charlie (he/him), and I'm a senior. This is my fourth (and final </3) year on staff, and I'm the Co-Editor-in-Chief. I was voted most...