Former Central graduate selected to fill football coach's role
Hang on for a minute...we're trying to find some more stories you might like.
Former Head Football Coach Jay Ball announced early retirement from OPS in November of 2016. Ball led the Eagles to many victories during his time at Central with a "67-48 record and eight playoff appearances, and took them to the 2007 Class A state championship" (omaha.com). A new coach has since been announced. Omaha Central Alum Lance Griffin will be taking Ball's place for the upcoming football season this fall.
Griffin graduated from Central in 1998 and lettered in football for two years. He initially played football for Iowa Central Community College, but finished his college career with Bowie State University in Maryland. Griffin played football for a total of nine years and his main position was defensive back.
Griffin is no stranger to coaching football. He began his coaching career as an assistant coach at Central back in 2004. He then coached at Wayne State College for three seasons and led them into their first winning season in over a decade in 2007. Griffin returned to coaching high school football at Benson. In 2009, he helped Benson's football team make the state playoffs, which they hadn't accomplished in seven years. Griffin then assistant coached at Northwest from 2010-2011 and returned to Central under Coach Ball in 2012. Since then, Griffin has been head coach at Concordia High School. He led the Mustangs into achieving both their first winning football season and first state playoff appearance in the school's history.
Griffin believes that he will be a good fit as head coach at Central. "My football career has been great. Football has afforded me an education as a player and a coach. I've won conference championships and bowl games as a player in college. I've also won as a coach on the high school and college levels. This has prepared me to be the best coach for this job," Griffin said. In regards to the rest of the football coaching staff, Griffin is looking to make the strongest championship staff possible. He did not comment on any specific changes he is planning to make to the coaching staff.
Griffin stated that he doesn't have any pressing concerns regarding the upcoming football season. He tends not to focus on the negative. "I focus on building off of the positives that are in place and go from there. I don't think it would be difficult stepping in after Coach Ball. I thank him for giving me an opportunity to coach under him where I got to coach and know a lot of the current players on the team."
Coach Ball will be definitely be missed by the Omaha Central community and it will be interesting to see how the Eagles' upcoming season turns out under new coaching. Griffin stated that "I am looking forward to continuing the academic and athletic excellence tradition Central has provided for many youth over the past several decades. Coming back as the Head Coach at 'I-Back High' is a dream come true. I'm excited for it all".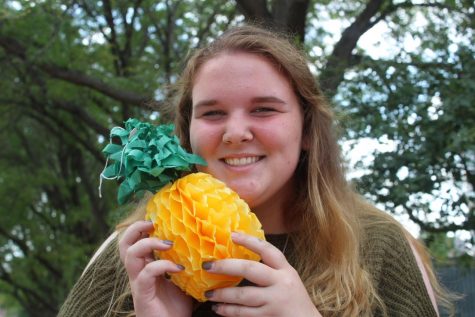 Maddie Grabow, staff writer
I'm a junior this year and this is my second year on Register staff. I'm terrible at putting my thoughts and opinions into words and writing for The...