'Hamilton: An American Musical" – Review
** This story does contain spoilers. But also, it's history. 
Hamilton: An American Musical has been the shot heard round the world since 2015. The historical musical has changed the way people experience theatre. It has united traditional theatre kids with those who wouldn't typically venture into the arts. Hamilton documents the life of the first Secretary of the Treasury, Alexander Hamilton from his beginnings as an immigrant from the Carribbean through America's political ranks from 1776-1804. It shows his social and political tribulations as he works to develop up the "young, scrappy and hungry" United States of America. 
Since its opening on Broadway, Hamilton has been the hottest ticket for theatergoers. This cast was expected to bring nothing less than perfection to the Orpheum stage and they delivered on nearly every front. The first thing you see when you enter the theater is the set. It takes up every foot of the stage with multiple catwalks, a turntable and brick walls. The turntable was very good for transitions and to depict chaotic events. During Hurricane, cast members lifted furniture all around Hamilton as he was singing to physicalize a hurricane. Everything besides the walls is made out of sturdily built wooden scaffolding symbolizing the people who built America. In theatre, it is a known rule that ensemble members play just as much of a role in telling the story as the main characters. That was to be true in Hamilton, but there was so much more. Every ensemble member had phenomenal dancing abilities and was utilized in the most creative ways. For example, in Hamilton's death scene, an ensemble member pretends she is physically holding the fatal bullet and inches closer and closer to Hamilton as he goes through his final monologue. 
I was afraid at the beginning of Act one that the energy may be lacking, because of the two show day the actors had. Oh, how I was mistaken. Joseph Morales (Hamilton) decided to play the role with less energy and even timid in the beginning. This brought another layer to the character I had never really thought before, but I liked a lot. It was a very good contrast to Nik Walker's portrayal of Aaron Burr. Walker was a confident, commanding presence on stage. As the story progresses, Hamilton and Burr almost switch personality traits as Hamilton begins to come into himself as a political figure and Burr is left in his shadow. Walker's song Wait For It all he did was stand on stage and look into the audience, but his laser focus made us feel the passion he had within. For me, he stole the show. The other supporting men included: Warren Egypt Franklin (Lafayette/Jefferson), Desmond Sean Ellington (Hercules Mulligan/James Madison), Elijah Malcomb (John Laurens/Philip Hamilton). Each one of them brought their A-Game. From the start of the show, my eye was immediately drawn to Franklin's energy and stage presence. Ellington decided to play Mulligan a little more aggressively than I would have liked. It did not balance out the rest of the cast. Arguably the most fun role in this show is King George, played beautifully in this production by Neil Haskell. He had perfect comedic timing and brought light energy to the dense production.  
The women in this show were so different, but each so special in their way. Erin Clemmons (Eliza Hamilton) had the purest and angelic voice I have ever heard on a National Tour stage. Her acting, however, fell short. There was not enough drive and fight in her character. Acting is all about internal and external conflict and she was too complacent. I did not see that in her character until the death of her son. Ta'rea Campbell (Angelica Schuyler) brought a dense Broadway vibrato sound and a compelling forceful presence on stage. However, in her song Satisfied, the sound mixing was off and I could barely hear her over the ensemble parts.  
While there were so many phenomenal elements to this show, a musical is only as good as its weakest link. For me, that was Marcus Choi (George Washington). Washington is one of the most dominant historical figures ever. Choi did not bring that to the table. His energy fell flat in the first act. Inflection is a big deal in acting and he ended most of his sentences on a downward note. After a while, this made me not want to listen to him talk. His vocal tone was uneven, almost as if it were two separate people singing. However, he brought it during is a song in act two, One Last Time. I think he was more experienced at performing more heartfelt material and didn't know how to bring the soul and drive to the character.  
Overall, Hamilton is a show that will go down in history as something that revolutionized theatre as we know it. So, let's raise a glass to the fact that we didn't "throw away our shot" in bringing this theatrical masterpiece to the Big O. 
About the Writer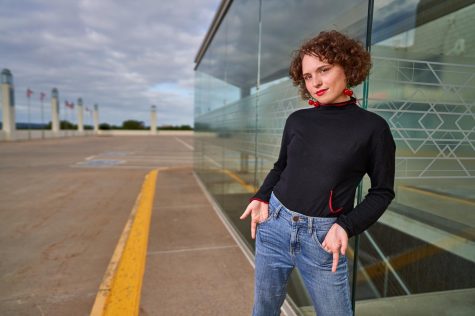 Daisy Friedman, Editor In Chief
Hey guys, my name is Daisy. I'm a senior, and I'm the EIC for The Register this year! This is my second year on staff at CHS and my fourth year in journalism....