Gretna Public Schools restricts use of students' preferred name, pronouns
Transgender and gender-expansive students at Gretna Public Schools may not have their preferred name and pronouns used by district staff under current policies in place at the school district.
Gretna Public Schools staff were instructed not to use the preferred names and pronouns of students unless given parental consent under the district's policy, and will face consequences if they do so, including being written up, fired and denied legal assistance if they are sued by parents, the Register has learned.
The policy, which was made with input from the district's legal counsel, was implemented prior to the 2021-2022 school year and reiterated to staff by their school principals during meetings before the beginning of the current school year. The policy states that teachers must direct all student requests to be called by their preferred name or pronouns to school administration. It also instructs teachers not to discuss a student's preferred name or pronouns with their parents without the student's prior consent.
Documents obtained by the Register show teachers would be disciplined if they violated the policy. On Sept. 7, 2021, Gretna High School staff were told that if they violated the policy once, they would be written up for insubordination. On their second violation of the policy, the document states they would be removed from their teaching position.
Gretna High School staff also were forbidden from distributing surveys asking students for their preferred pronouns and from having their own pronouns included in their school emails and correspondence.
Teachers who spoke to the Register said that at the beginning of the current school year, they were told by school administrators that if they violated the policy and were sued by parents, they would receive no legal assistance from the district.
The policy has not been included in the teacher's handbook and has not been approved by the Gretna Board of Education. The Gretna Public Schools and Daniel Gulizia, the Gretna Public Schools Board of Education president, did not immediately respond to requests for comment.
Speaking on the effect that the policy has had on LGBTQ+ students attending Gretna schools, a teacher said, "It has affected them negatively quite a bit. A lot of them don't feel supported, it's very upsetting, and they don't necessarily feel safe in all of their classrooms."
Gretna Public Schools teachers spoke to the Register about their experiences with the district's policy on the condition of anonymity, citing fears of being fired or sued for sharing their stories openly.
"I want to support the kid and I want to make it so the kid doesn't kill themselves because they don't feel that they are the person inside that their parents are trying to force them to be," said a Gretna educator on their frustration with the policy. The educator said they had experiences in the past with transgender students who they believe would have suffered severe distress if their preferred name or pronouns had not been respected. "Ever since the policy was announced, I have been really upset and just trying to do what's right for kids and getting legal representation if we get sued."
Speculating on the rationale behind not including the policy in publicly available documents, a teacher said, "Gretna as a district has an unspoken rule that says if we kind of brush this under the rug it'll go away. They are trying to hide what the school policy is and not write it down for the general public to see because then it's going to offend someone and turn into a much bigger battle and that's what they're trying to avoid. This is a don't-make-waves district."
"Most people just call students by their names," said the teacher. "We don't call parents for permission for nicknames, so why do we have to call them for this? I had already had kids come up to me and said they prefer different pronouns, or a different name and it was kind of really embarrassing to go up and tell them that I was told that I couldn't do that after I told them I would. I was almost in tears at this point because that is what I wanted to do but [the district] tied my hands for no reason besides the district was uncomfortable."
Gretna's policy appears to contradict the suicide prevention training the state requires all public school employees to undergo. In an Aug. 17 email obtained by the Register, Gretna Public Schools provided its employees with courses on suicide prevention. The training included a course instructing teachers on how to prevent suicide among LGBTQ+ youth.
The course repeatedly instructs teachers to call students by their preferred names and pronouns, citing its effect upon transgender student's well-being. Below the link to the course in the email was written, "This course instructs schools to call students by their preferred names. Please remember, our District policy requires parent permission to call students by their preferred names."
Research has shown that not using a transgender student's preferred name and pronouns can be detrimental to their well-being. A 2018 study by the Journal of Adolescent Health found that transgender students who were referred to by their preferred name and pronouns experienced 71% fewer symptoms of severe depression, a 34% drop in reported suicidal thoughts, and a 65% decrease in suicide attempts. Due to this research, The National Education Association, the Council on Social Work Education, and the American Psychological Association all support the use of a student's preferred name and pronouns in school settings.
One Gretna Public Schools teacher said colleagues at their school have found a loophole in the policy by allowing transgender students to correct other students when they deadname or misgender them without the teacher themselves participating in the discussion. Deadnaming refers to calling students by the name they were assigned at birth, not their chosen name.
"The kids and the teachers for the most part are like, 'What's the big deal?,'" the teacher said. "Nobody in that class complained about it, everyone was just like, 'Ok that's what they go by. Ok, moving on,' and I think that's fantastic, but it should always be that way."
Your donation will support the student journalists of Omaha Central High School. Your contribution will allow us to purchase equipment and cover our annual website hosting costs.
About the Contributor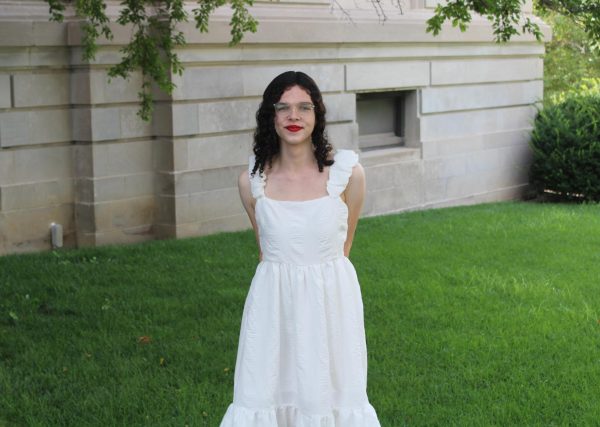 Jane McGill, Executive Editor
Hello Register readers! I am Jane McGill, endlessly inquisitive senior and Executive Editor of The Register. I oversee all aspects of The Register's...