Central establishes eSports team
The next great phase of Central sports domination might not be on the turf or hardwood, but instead on the joysticks and in front of a computer monitor.  
The Omaha Public Schools district established eSports programs at each of its high schools, and Central is on the forefront of the initiative. 
"I want Central to be the center of it all, to be known for it," Said eSports coach, John Franta "I want it to be one of those sports where we are the leader, because we have a rich history in sports." 
The process towards becoming the premier eSports destination amongst Nebraska high schools has not been an easy task, however.  
"A lot of jokes have been made, because it's the 'fake sport,'" Franta said. "They don't understand how grueling it actually is…[the hardest thing is] you can't look your opponent in the eye, so you are constantly watching videos to see how others do things." 
Beyond how the sport is perceived by the general public, there is also a problem with raising funds. The very nature of eSports is predicated on having the highest quality equipment to utilize in competition, and the cost of that equipment can reach six digits very quickly. 
"Unfortunately [eSports] is very expensive. Your average gaming computer, just for the PC itself, is a little over three thousand dollars," Franta said. "The question is, do we ask the school to pay for that? Well, do we ask the school to pay for football players' cleats?" 
Monetary issues have really slowed down the upstarting of the program, as leaders of the eSports team figure out how to get north of $150,000 worth of equipment. This has led Franta to go towards private funding and district payments, to which some individuals have shown interest in funding the program. 
The time commitment and monetary commitment required to excel can be a turnoff, but Franta is of the opinion that if you are going to spend hours playing video games, you might as well get something for it. Collegiate opportunities have emerged as potential fruits of the labor required. 
"I've looked at local scholarships that you can get for eSports," Franta said. "Doane College, [Metropolitan Community College], Bellevue University. Lincoln is looking into eSports, if I can get students ready that can put us above other schools." 
The next issue that has come up has been time. With the preseason for the PlayVS 2023 season already started and the regular season starting in February, it has launched a time crunch for all schools to be ready as soon as humanly possible. 
"I want to have people seeing what it's all about by mid-November," Franta said. "The reason I want it so fast is because we need to see what the issues are going to be." 
The NSAA and OPS run their eSports programs through PlayVS, the top Nebraska eSports league. Through PlayVS the high schools will compete in a collection of different games through a 8 week season and subsequent postseason. 
With eSports presenting itself as the newest sport within in the NSAA's catalogue of events, it has sparked a scramble across the state to ready the schools for a rapidly approaching season. Across OPS, Central is the furthest along, with some schools still looking for coaches, let alone funds. 
Franta has been the reason that Central is taking the lead for eSports amongst OPS schools.  
"I've been doing paperwork for this whole thing, since before anyone was even named the head coach," Franta said. "Everyone is going to tell me to slow down, but I'm not going to." 
Franta's leadership has given Central a head start over the competition, which he is hoping will result in wins 'on the sticks.' 
Your donation will support the student journalists of Omaha Central High School. Your contribution will allow us to purchase equipment and cover our annual website hosting costs.
About the Writer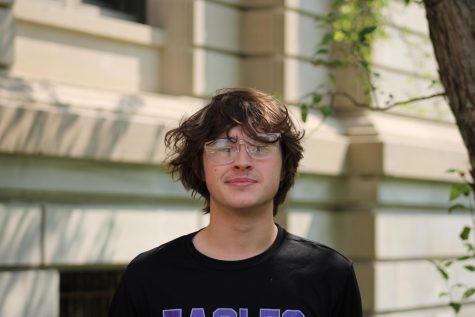 Conor Harley, Staff Writer
I'm a junior and when I'm not writing for the Register I am watching my bulls and hanging with friends.