Why do we run?
"Why would you ever do that?" is an entirely reasonable thought many people have when they see someone jogging, panting and grimacing.  Not even runners can deny that running is uncomfortable. "In running it's just like endless, just moving your legs and pumping your arms" said recreational runner junior Ella Levy.    
However, even in the US, a largely sedentary country, 50 million people run regularly according to Statistica.com.   Central high school alone is full of runners: cross country and track teams, as well as students and faculty who run on their own.  
Why do so many people choose to run? 
Contrary to popular belief, most run for their mental rather than physical health.  This is confusing to non-runners. Levy explains this saying, "Generally, there is no scoring. You are not winning anything."  Instead, the sense of personal accomplishment, of hard earned self improvement, or personal records, are the motivators.   "Sometimes it is really hard to get up and go run," said senior Tate Grabher, a top runner on the school's cross-country team, who run an average of five miles a day in-season. "But I try keep whatever goal I have in mind. It's usually the goal that motivates me the most."  
Accomplishing the goal–whether a PR, or just finishing a workout–stimulates dopamine production, the reward neurotransmitter in the brain. 
This mental boost is present for runners who do not participate in organized sports as well.  Levy runs multiple times a week at home.  As someone in the top of her class academically, she said, "I'm doing it for my mind, just to free up some space."   In a world where people are constantly being asked to divide their attention, the singular goal of a run allows for some needed time for thoughts to marinate. "After a morning run, I feel energized, " Grabher said.  
  While the running itself does not always feel great, afterwards the feeling is unmatched.  A literal "runner's high" is experienced after a hard aerobic workout, where the body releases pain killing endorphins, even after the body is no longer expereicnieng physical pain.  The effect is to the effect of morphine. "I really do feel euphoric following a really hard run, and it helps me be a better mom and a teacher because I'm happy," said girl's cross-country coach Martha Omar. 
Proving to oneself the capability of surviving, even thriving, through pain, builds 
self-esteem.  While cross country runners are not known for being cool by any means, many report an increased level of confidence during the season. Senior cross country runner Andrew Demare said, "Running helps me as a stress relief, making me feel better about myself when I run."  Nationally ranked former Central track runner Corey Vaughan described running saying       "You kind of feel like an unstoppable force" 
Running outside is also a chance for people to get a nature fix.  "Being out on the trail or the road is what works for me," Omar said.  Nature Deficit Disorder, which most young people are at risk for according to the National Library of Medicine causes diminished use of the senses, attention difficulties, and results in higher rates of physical and emotional illness.  Getting out for a run is a beautiful way to stave off the dangers of nature deficit. "In the fall I've got the leaves crunching under my feet and I look up and it's all orange," Levy said.  
Nonetheless, these advantages are not enough for most people to ever desire to run. Omar thinks this is because, "You sometimes you tell yourself you can't push through on a run, but I have tested it over many years of running, and you can push through." Considering that research from the U.K. National Health Service found that the dopamine and serotonin boosts from running can be equally, if not more effective, treatment for mild depression than medication, the better question might be, "Why would you ever not do that?"  The hardest part is starting, but as Ella Levy said, new runners should remember "It's okay to struggle, as long as you keep going." 
Your donation will support the student journalists of Omaha Central High School. Your contribution will allow us to purchase equipment and cover our annual website hosting costs.
About the Writer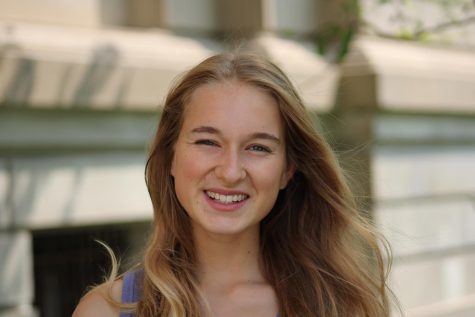 Chlöe Johnson, Staff Writer
Hey. I'm Chloe Johnson (she/her). I'm a senior and this is my fourth year on the Register. Staff voted me most likely to have been a hippie in the 60s,...