Jones, girls basketball wants to shock state
Basketball season is here, and junior point guard Inia Jones is excited to show off a new team to the state of Nebraska. The Central girls team looks a lot different than last year's and has been underestimated because of it. "I'm looking forward to shocking everybody," Jones said. 
The 2021-22 girls basketball team featured a stacked senior class, with four of the five top scorers being in their senior year of high school. The third top scorer was Jones, who co-opted this stat by being the team's leading playmaker. 
"Last year we had seven seniors. We had a lot of success with that group the last two years. We won a lot of games, [and] had a lot of positive memories with those ladies. The low was how we played at the State tournament. It is sad that is how we ended, because overall the group grew a lot [over] the last three seasons," said Michael Kroupa, head coach of the Central girls basketball team. 
With the departure of the seniors, Jones's role on the team will look much different this year. "Inia will be counted on to score more. We will be a much more balanced team this year, I believe, which makes us more dangerous in many ways," Kroupa said. 
Last year's seniors made a lasting impact on the team and are still supporting the Eagles from the sidelines. "Even to this day we still talk to them, they still help us, and they still ask how the team is going," Jones said. 
Going into a new season, Jones thinks that the players will benefit from treating every practice like a game. She is also aware of the effect that one person's mood can have on the entire team, and makes it her goal to bring as much energy to the court as she can muster. "If I'm off, I feel like it's going to affect the whole team, but if I'm on and I'm listening and I'm 110%, the whole team is going to catch on," she said. 
This is the same energy Jones has brought to basketball since she began playing third grade. Her dad was a coach and her older brother played too, so naturally, she continued the family tradition.  
"Fifth grade I played with the boys for a summer, and then all up until last year I played 17U, so I was in eighth grade playing [with 17-year-olds]," Jones said.  
This decade-long passion for basketball has garnered Jones the interest of many colleges. She currently has six offers from NCAA Division I universities: University of Louisiana Monroe, Indiana State University, Wichita State University, University of North Dakota, University of Nebraska at Omaha, and Illinois State University. She plans on making her decision after her last summer basketball season.   
Along with college offers, basketball has also allowed Jones to travel and compete with other teams across the country. Now, she has made connections with players and coaches from almost every state. 
Her favorite part about basketball is the opportunities it creates. "Like being able to go to college for free or being able to provide for your family and stuff like that. You can do a lot with basketball," she said. 
Jones is excited to see what the future brings, even though she is not sure what it will look like. "Of course, I want to go to college and go to the league and stuff like that, but we'll see. I hope everything plays out [perfectly]," she said. 
For now, Jones is focusing on the current basketball season, which the team and coaches have a very positive outlook on. "This team has finished in the top five of the state the last couple of years, they [have] put in countless hours working on their game, and they deserve a loud, supportive community. Our style of play should lead to a lot of points and should be very enjoyable to see. [I'd] love to see the Central community spirit get back to what it has been in the past before Covid," Kroupa said. 
"Our rankings dropped, a lot of things dropped, but, I mean, we're not worried about it—we could care less about our ranking," Jones said. "But I'm excited to show the state of Nebraska that they slept on the wrong team." 
Your donation will support the student journalists of Omaha Central High School. Your contribution will allow us to purchase equipment and cover our annual website hosting costs.
About the Contributor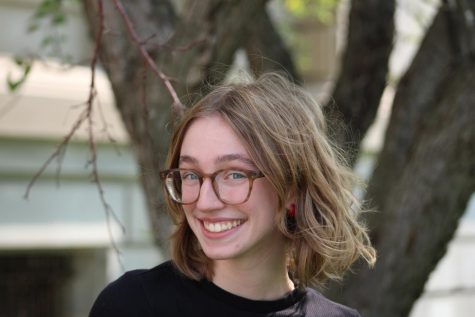 Hadley Forsen-Yepes, Staff Writer
Hey, I'm Hadley and I use she/her pronouns! I'm a junior and this is my first year writing on the Register. Apparently, I am most likely on staff to refer...